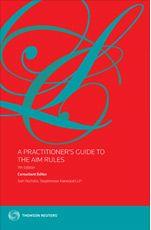 Practitioner's Guide to The AIM Rules 7e
Book

Date: 10/09/2014

Code: 9780414034020

Sweet & Maxwell, UNITED KINGDOM

Practitioner's Guide to The AIM Rules 7e
Description
A Practitioner's Guide to the AIM Rules is the established leading guide for senior management in AIM listed companies and those seeking to list, and their professional advisers. It provides a clear, comprehensive and practical approach to the requirements behind an AIM listing, and the ongoing obligations.
The book begins with an overview of the market, written by the head of AIM (currently Marcus Stuttard). It goes on to cover admission procedures, continuing obligations and tax issues, and the roles played by solicitors, accountants and nominated advisers (Nomads). There is dedicated treatment of US companies, and of fund structures. Each chapter is written by a well-known expert adviser.
The new edition will additionally cover all other developments that have occurred since the sixth edition was published including those relating to tax, the City Code, and the implications of a number of FCA enforcement actions against AIM listed companies.
Finally, the book includes extensive model forms and documentation.
Table of Contents
AIM Marcus Stuttard, Head of AIM, London Stock Exchange

An Overview of the AIM Rules, Eligible Companies, their Directors and the Role of Exchanges Elliot Shear, W Legal

Role of the Nominated Adviser Stephen Keys and Adrian Hargrave,
The Role of the Accountant Linda Main, KPMG LLP

The Role of the Solicitor Tom Nicholls, Stephenson Harwood

The Statutory Framework John Bennett, Berwin Leighton Paisner LLP

The Admission Document and the Application Procedure Nick Davis and Kieran Stone, Memery Crystal

Continuing Obligations and Transactions Mike Bell, Deloitte (to be confirmed)

Directors' Dealings and Corporate Governance Melanie Wadswoth, Faegre Benson

Fund structures John Reed, Lawrence Graham LLP

The Tax Regime Chilton Taylor and Paul Freeman, Baker Tilley

The Broker and the Trading Rules John Wakefield, WH Ireland

Overseas Companies on AIM Nick Williams, Edwin Coe

US Companies Bryce Linsenmayer, Haynes & Boone (to be confirmed)

Settlement Arrangements – CREST Jane Tuckley, Travers Smith LLP

Appendices: model documentation