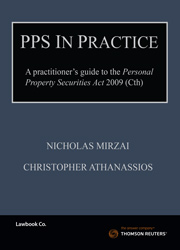 PPS in Practice bk&ebk
Book+eBook

Date: 16/03/2018

Code: 42134858

Lawbook Co., AUSTRALIA
Description
PPS in Practice is a considered and authoritative treatment of the practical operation of the Personal Property Securities Act 2009 (Cth) – and how it applies to ordinary commerce. Authored by commercial lawyers, Nicholas Mirzai and Christopher Athanassios, this innovative and accessible text is designed to assist legal professionals, insolvency practitioners, corporate counsel, accountants, compliance officers, business owners and students to understand which parts of the Act are of most concern for each relevant stakeholder – and in what circumstances.
The text is divided into a number of discrete parts addressing both transactional and litigation aspects of the regime and how to establish best practices. Topics covered include how to draft security agreements, how to properly lodge financing statements on the PPSR, the amendment demand process – what it means and how to deal with security interests taken by businesses and against businesses and how to address erroneous registrations, enforcement and litigation.
For those with a detailed understanding of the PPSA and its foundational concepts, the text usefully contains a number of annexures which provide precedent language for drafting, checklists to ensure all appropriate steps are being observed and taken (in appropriate circumstances) and examples of template correspondence from the perspective of experienced practitioners.
From the Foreword by The Hon Justice Paul Le Gay Brereton AM RFD:
"….. to address the need for an accessible and transparent reference, particularly for those who may not have the time or resources to engage directly with the legislation itself, the authors draw on their unsurpassed experience in practice in navigating the complex web of substantive and procedural rules to be found in and under the Act. They have produced a work which does much to demystify the Act and its operation, and will aid the lay as well as the legal community to gain a practical understanding of notions which are fundamental to many routine commercial and consumer transactions. The authors are to be congratulated for a valuable addition to the learning on personal property securities law. "
*
eBooks and packages including an eBook may not be returned once the software key has been supplied. Your rights as a customer to access and use the ProView™ software and a ProView eBook are subject to acceptance of the ProView content licence agreement.
NB
An email with a registration key and instructions for accessing your eBook will be sent after checkout. For existing ProView users the eBook will appear in your library after checkout.

Forthcoming/pre-order eBooks will be available after the publication date.

The ProView app is not currently available on Kindle. See the latest system requirements