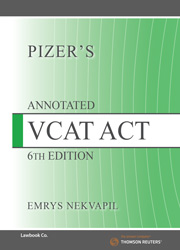 Pizer's Annotated VCAT 6e
Book

$204.00* $240.00 RRP Save: $36.00 (15%)

Date: 27/09/2017

Code: 9780455500287

Lawbook Co., AUSTRALIA

Pizer's Annotated VCAT 6e

Sale Price:

$204.00

Saving: $36.00
Description
Pizer's Annotated VCAT Act, 6th edition, authored by Emrys Nekvapil, is an invaluable resource for anyone who appears in the Victorian Civil and Administrative Tribunal. It contains a full copy of the VCAT Act, VCAT Regulations and VCAT Rules, together with extensive commentary on the practice and procedure of the VCAT.
The 6th edition includes legislative amendments consolidated to 1 September 2017, with commentary on VCAT decisions up to 1 January 2017 and important decisions of the Victorian Supreme Court and Court of Appeal up to 1 July 2017.
The 6th edition includes new discussion and analysis of significant decisions dealing with specific issues under the VCAT Act, including:
The judgment of Warren CJ in Metricon Homes Pty Ltd v Softley (2016) 49 VR 746, and the consequent proposed legislative changes to s 148 of the VCAT Act;
Re Small Business Commissioner reference for advisory opinion [2015] VCAT 478, a decision of Justice Garde P, and the first to consider in detail the power to give an advisory opinion under s 125 of the VCAT Act;
GL Loy Yang Pty Ltd v Dept Head, Dept of Economic Development, Jobs, Transport and Resources [2016] VCAT 1249, a decision of Dwyer DP about the VCAT's power to make orders to give effect to a settlement in proceedings in the review jurisdiction;
Burns v Corbett (2017) 316 FLR 448; [2017] NSWCA 3 and other decisions about the impact of Ch III of the Commonwealth Constitution on the VCAT's jurisdiction;
Haritos v Federal Commissioner of Taxation (2015) 233 FCR 315, Crown Melbourne Ltd v Cosmopolitan Hotel (Vic) Pty Ltd [2016] HCA 26 and other decisions providing guidance on appeals from the VCAT on a question of law;
Decisions about natural justice, evidence and procedure in disciplinary proceedings;
Decisions about the operation of s 115CA of the VCAT Act, which creates a presumption that a responsible authority will be ordered to reimburse the fees of an applicant for review of a failure to grant a planning permit within the prescribed time; and
Numerous other decisions of the VCAT and the Supreme Court, providing guidance on various provisions of the VCAT Act, Regulations and Rules.