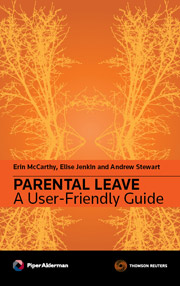 Parental Leave: A User-Friendly Guide
Book

Date: 22/11/2011

Code: 9780455229584

Lawbook Co., AUSTRALIA

Parental Leave: A User-Friendly Guide
Description
This practical guide covers parental leave entitlements and procedures under the Fair Work Act 2009 and Paid Parental Leave Act 2010.

The relationships between these two pieces of federal legislation and the rights and obligations they create are complex. Increasingly, as employees take up the governmental paid scheme, employers and HR managers will have to deal with challenging issues such as employees maintaining contact with the workplace while on leave and rights to return to work. This is in addition to the 'paymaster' function which became the responsibility of employers as of 1 July 2011.

Parental Leave: A User-Friendly Guide by Erin McCarthy, Elise Jenkin and Andrew Stewart of Piper Alderman follows the course of a parental leave application. Using a clear layout, bullet points and case studies, it brings together the issues that come up under different pieces of legislation to help IR/HR practitioners and union/ employer advisors meet the needs of clients and employees. Academics will also appreciate the analysis of parental leave and its development in the context of the Australian workplace relations system.

Read a Q&A with Erin McCarthy, ALB Magazine December 2011.

Contents: Sources of Parental Leave Entitlements; The Major Entitlements; Eligibility; How Parental Leave May Be Structured; Making and Dealing with Applications; Starting Parental Leave; Payment During Leave; Other Obligations During the Leave Period; Replacement Workers; Varying or Ending Parental Leave; Returning to Work; Key Points for Workers; Key Points for Employers.
Editorial Reviews
From: Law Institute Journal, May 2012
Reviewed by Dr Karen Wheelwright, Faculty of Law, Monash University
Australia is known for its generally good record in providing work-related benefits for its employees. However, we have lagged well behind most other OECD countries with respect to one important right – the right for working parents to take paid leave on the birth of a child. This was rectified in 2010 when the federal government introduced legislation to provide the primary carer with a maximum of 16 weeks' leave, paid at the rate of the federal minimum wage, for births or adoptions occurring on or after 1 January 2011.

While the basic entitlement of the paid parental leave scheme (PPLS) (which is pay, not leave) appears straightforward, parental leave overall is a surprisingly complex area. This is mainly because of the interaction of the PPLS with other laws, including the National Employment Standards, anti-discrimination laws, taxation and superannuation guarantee legislation. Fortunately, this new book addresses all of the important questions that employers and employees might have about the operation of parental leave, including the entitlement to payments (both under the PPLS and enterprise agreements and employer policies), the employer's role as "paymaster", managing the leave entitlements of couples, filling a temporary "parental leave" position and how to manage the employee's return to work, especially when the employee requests part-time or flexible working arrangements so as to manage family responsibilities.

The book is written in a crisp, accessible style. It is true to its claim to be "user-friendly". It is well-organised and indexed, making it easy to find relevant information to answer the problem at hand. It also contains numerous short case studies that exemplify the many and varied issues that can arise, with clear answers and advice provided. The book also provides summaries of relevant anti-discrimination cases dealing with requests for flexible work arrangements. There is a wealth of practical legal advice on how to hire temporary replacement workers to avoid the legal pitfalls.

The authors have done a splendid job in producing an authoritative and user-friendly handbook about the background to and operation of parental leave in Australia. Employers, employees and their representatives will find it an invaluable resource.