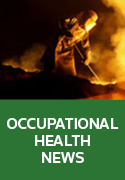 Occupational Health News Email
Email

Date:

Code: 30162003

Thomson Reuters, AUSTRALIA

Enquiry Sent

A member of our support team will be in touch with you within 1 business day.

Sales Enquiry Form

Occupational Health News Email

For questions about how to use this product or to get help with your account please visit the Help Centre or Contact Support directly.
Description
Weekly independent occupational health and safety news that subscribers trust
The independent weekly news service that OHS professionals across Australia have turned to since 1981, sourced from key contacts in the field - see recent example here.
Occupational Health News delves deeper to unearth the issues behind safety news stories and analyse details on legislative and common law developments overlooked by competitors.
News issues range from breaking workplace safety incidents, emerging understanding on bullying and mental health at work and political developments in safety.
OHN also features rolling, in-depth coverage on landmark Australian OHS regulatory and institutional oversights.
It covers court decisions from all Australian jurisdictions, as all but Victoria move toward nationally harmonised legislation.
Our editor and journalists update subscribers on the latest OHS research literature, on top of timely academic contributions from Monash Adjunct Professor Niki Ellis and occupational physician Dr Graham Hall. Guest contributors are featured regularly in our bimonthly Inside OHS.
Email and online subscribers receive added research tools including search-by-article archives.
Thomson Reuters publishes 47 weekly OHN editions plus 6 Inside OHS editions a year.
SOCIAL MEDIA
Follow Occupational Health News & Inside OHS on Twitter
*
Prices for email and online formats are for a single annual subscription. For information on multi-user pricing and/or Site/IP Authenticated licence rates please call us on 1300 304 197.