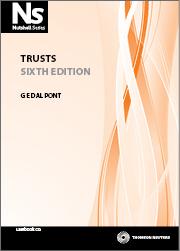 Nutshell: Trusts 6e book + ebook
Book+eBook

Date: 15/06/2015

Code: 41716801

Lawbook Co., AUSTRALIA

Nutshell: Trusts 6e book + ebook
Description
The essence of the law…

Lawbook Co. Nutshells are the essential revision tool: they provide a concise outline of the principles for each of the major subject areas within undergraduate law.

Written in clear, straight-forward language, the authors explain the principles, and highlight key cases and legislative provisions for each subject.

Table of Contents
1. Introduction
Part I - Express trusts
2. The requirement of certainty
3. The requirement of complete constitution
4. The requirement of writing
5. Void and voidable trusts
6. Trusts for non-charitable purposes
7. Charitable trusts
Part II - Non-express trusts
8. Resulting trusts
9. Constructive trusts
Part III - Administration of trusts
10. Trustees
11. Duties of trustees
12. Powers and rights of trustees
13. Breach of trust
14. Variation and termination of trust
*
eBooks and packages including an eBook may not be returned once the software key has been supplied. Your rights as a customer to access and use the ProView™ software and a ProView eBook are subject to acceptance of the ProView content licence agreement.
NB
An email with a registration key and instructions for accessing your eBook will be sent after checkout. For existing ProView users the eBook will appear in your library after checkout.

Forthcoming/pre-order eBooks will be available after the publication date.

The ProView app is not currently available on Kindle. See the latest system requirements