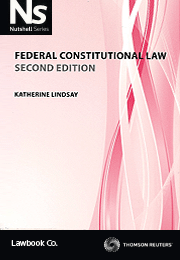 Nutshell: Federal Constitutional Law 2nd Edition
Book

Date: 22/12/2008

Code: 9780455225623

Lawbook Co., AUSTRALIA

Nutshell: Federal Constitutional Law 2nd Edition
Description
The second edition of Nutshell: Federal Constitutional Law provides a concise outline of the principles and doctrines of this challenging subject.
Nutshells
are ideal as an introduction to an area of law or as a brush up in preparation for exams.
• Concise
• Clear explanations
• Key cases
• Legislative provisions
THE ESSENTIAL REVISION TOOL FOR LAW STUDENTS
CONTENTS
Ch 1 - Australia's Federal Constitution: An Historical Overview
Ch 2 - Constitutional Concepts
Ch 3 - The High Court of Australia: Functions and Jurisdiction
Ch 4 - Legislative Power and its Interpretation
Ch 5 - Executive Power
Ch 6 - Judicial Power
Ch 7 - Aspects of Australian Federalism
Ch 8 - Rights and Freedoms under the Constitution.