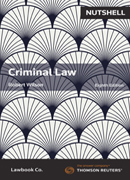 Nutshell: Criminal Law 8e
Book

$33.30* $36.99* RRP Save: $3.69 (10%)

Date: 30/08/2018

Code: 9780455241197

Lawbook Co., AUSTRALIA

Enquiry Sent

A member of our support team will be in touch with you within 1 business day.

Sales Enquiry Form

Nutshell: Criminal Law 8e

For questions about how to use this product or to get help with your account please visit the Help Centre or Contact Support directly.
Description

Lawbook Co. Nutshells are the essential revision tool: they provide a concise outline of the principles for each of the major subject areas within undergarduate law.
Written in clear, staright-forward language, the authors explain the principles, and highlight key cases and legislative provisions for each subject.