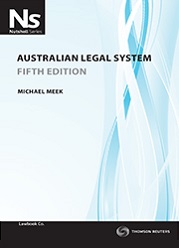 Nutshell: Australian Legal System Fifth Edition - Book & eBook
Book+eBook

Date: 30/04/2016

Code: 41759052

Lawbook Co., AUSTRALIA

Nutshell: Australian Legal System Fifth Edition - Book & eBook
Description
The essence of the law…
Lawbook Co. Nutshells are the essential revision tool: they provide a concise outline of the principles for each of the major subject areas within undergraduate law.

Written in clear, straight-forward language, the authors explain the principles, and highlight key cases and legislative provisions for each subject.
Table of Contents
Table of Contents
Chapter 1: Introduction
Chapter 2: Historical Development of the Australian Legal System
Chapter 3: The Structure of the Australian Government
Chapter 4: Creation of the States
Chapter 5: Creation of the Commonwealth
Chapter 6: The Relationship between the Legislature, Executive and Judiciary
Chapter 7: Sources of Law
Chapter 8: Divisions in the Law
Chapter 9: Court Proceedings
Chapter 10: Criminal Proceedings
Chapter 11: Civil Proceedings
Chapter 12: Statute Law
Chapter 13: Delegated Legislation
Chapter 14: Common Law
Chapter 15: Law of Equity
Chapter 16: Reporting the Law
Chapter 17: Applying the Law - Precedent
Chapter 18 - Precedent in Australia
Chapter 19: Elections and Appointments
Chapter 20: The Legislature
Chapter 21: The Federal Parliament
Chapter 22: The State Parliaments
Chapter 23: The Executive
Chapter 24: The Judiciary
Chapter 25: Alternative Dispute Resolution
Chapter 26: Cross-vesting of Jurisdiction
Chapter 27: The Legal Profession
Chapter 28: Judges
*
eBooks and packages including an eBook may not be returned once the software key has been supplied. Your rights as a customer to access and use the ProViewâ"¢ software and a ProView eBook are subject to acceptance of the ProView content licence agreement.
NB
An email with a registration key and instructions for accessing your eBook will be sent after checkout. For existing ProView users the eBook will appear in your library after checkout.

Forthcoming/pre-order eBooks will be available after the publication date.

The ProView app is not currently available on Kindle. See the latest system requirements