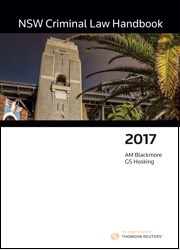 NSW Criminal Law Handbook 2017 - eBook
eBook - ProView

Date: 21/04/2017

Code: 9780455500065

Lawbook Co., AUSTRALIA

Enquiry Sent

A member of our support team will be in touch with you within 1 business day.

Sales Enquiry Form

NSW Criminal Law Handbook 2017 - eBook

For questions about how to use this product or to get help with your account please visit the Help Centre or Contact Support directly.
Description
An authoritative and accessible statement of the criminal law in NSW.
New South Wales Criminal Law Handbook 2017 provides affordable, easy-to-use coverage of the criminal law in NSW.
This new edition is current to 20 March 2017. It reproduces the major criminal legislation in whole, without separating its contents into topics, and this advantage, combined with the use of legislation shading, makes it easy to use in all contexts.
The contents of this book are extracted from the Criminal Law NSW subscription service, with the clarity of expression that is the hallmark of the authors, Martin Blackmore and Greg Hosking.
The intuitive structure of their content will appeal equally to practitioners and judges who value ease of use in Court, as well as law students coming to grips with the core elements of the criminal law.
Respectively current and retired judges of the District Court of New South Wales, Blackmore and Hosking were previously deputy directors of the Office of the Director of Public Prosecutions. They draw on this extensive and unique experience to provide authoritative commentary and annotations - particularly in relation to the Crimes Act.
New South Wales Criminal Law Handbook 2017 is an essential reference tool for private and government practitioners, judges, law enforcement officers, students and anyone requiring an accessible yet authoritative statement of the criminal law in New South Wales.
Table of Contents
Criminal Liability Principles
Crimes Act 1900
Crimes Regulation 2015
Crimes (Domestic and Personal Violence) Act 2007
Crimes (Criminal Organisations Control) Act 2012
Drug Misuse and Trafficking Act 1985
Summary Offences Act 1988 (Extracts)
Summary Offences Regulation 2015
Law Enforcement (Powers and Responsibilities) Act 2002
Bail Act 2013
Bail Regulation 2014
Criminal Procedure Act 1986
Crimes (Sentencing Procedure) Act 1999
*
eBooks and packages including an eBook may not be returned once the software key has been supplied. Your rights as a customer to access and use the ProView™ software and a ProView eBook are subject to acceptance of the ProView content licence agreement.
NB
An email with a registration key and instructions for accessing your eBook will be sent after checkout. For existing ProView users the eBook will appear in your library after checkout.

Forthcoming/pre-order eBooks will be available after the publication date.

The ProView app is not currently available on Kindle. See the latest system requirements