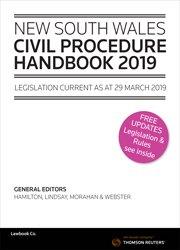 NSW Civil Procedure Handbook 2019 Book and eBook
Book+eBook

Date: 29/04/2019

Code: 42632855

Lawbook Co., AUSTRALIA

NSW Civil Procedure Handbook 2019 Book and eBook
Description
A portable handbook for civil litigation in New South Wales
NSW Civil Procedure Handbook 2019 provides practitioners with essential procedural and evidence
legislation and annotations in a single volume.
Whether you are on your feet in court or meeting with clients and counsel, you are guided to the
content you need by features such as thumb tabs, rich tables of contents and cases, shading on
annotations, detailed page headings and subject index.
This volume takes selected legislation and commentary from Thomson Reuters' NSW Civil
Practice and Procedure Suite which, under the guidance of The Hon John P Hamilton QC, The
Hon Justice Geoff Lindsay, Magistrate Michael Morahan (Acting) and Carol Webster SC, specifically
addresses the requirements for practice within the uniform rules framework.
Legislation is current as at 29 March 2019
To help practitioners stay up-to-date, Thomson Reuters provides free emails describing legislation and rule changes – look inside for registration details.
CONTENTS
Civil Procedure Act 2005 - annotated
Civil Procedure Regulation 2017
Uniform Civil Procedure Rules 2005 - annotated
Evidence Act 1995
Evidence Regulation 2015
Evidence (Audio and Audio Visual Links) Act 1998
Evidence (Audio and Audio Visual Links) Regulation 2015
Evidence on Commission Act 1995
Supreme Court Act 1970 – annotated extracts
Supreme Court Rules 1970 (except Sch F-G1) – annotated
Supreme Court (Corporations) Rules 1999 (except Sch 1)
Supreme Court Practice Notes
District Court Act 1973 – annotated extracts
District Court Rules 1973 – annotated
District Court Practice Notes
Local Court Act 2007– annotated extracts
Local Courts Rules 2009
Local Court Practice Notes
Index
*
eBooks and packages including an eBook may not be returned once the software key has been supplied. Your rights as a customer to access and use the ProView™ software and a ProView eBook are subject to acceptance of the ProView content licence agreement.
NB
An email with a registration key and instructions for accessing your eBook will be sent after checkout. For existing ProView users the eBook will appear in your library after checkout.

Forthcoming/pre-order eBooks will be available after the publication date.

The ProView app is not currently available on Kindle. See the latest system requirements