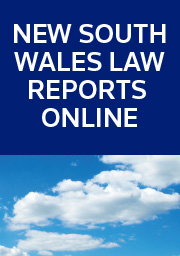 New South Wales Law Reports
Online

Date: 18/08/2005

Code: 41167527

Lawbook Co., AUSTRALIA

Enquiry Sent

A member of our support team will be in touch with you within 1 business day.

Sales Enquiry Form

New South Wales Law Reports

For questions about how to use this product or to get help with your account please visit the Help Centre or Contact Support directly.
Description
The New South Wales Law Reports (NSWLR) online are the authorised reports of the Supreme Court of New South Wales, published by Thomson Reuters on behalf of the New South Wales Council of Law Reporting. Each full-text judgment reported in NSWLR includes catchwords and a headnote approved by the Court.
NSWLR makes it quicker and easier to research case law and understand developments in the jurisdiction. A subscription to NSWLR on Thomson Reuters Legal Online offers significant research advantages.
Full archive – a complete backset from 1971.
View and print options – view cases on-screen or download a PDF facsimile of the paper version – ideal for use in court.
Integration with Legal Online – single-click linking between NSWLR and your other subscription content including:

FirstPoint - check the history and currency of a reported decision;
New South Wales Civil Practice and Procedure and other Thomson Reuters' online commentary titles;
The Laws of Australia;
authorised reports such as Commonwealth Law Reports and Federal Court Reports.