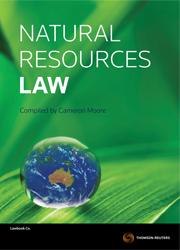 Natural Resources Law
Book

Date: 08/12/2015

Code: 9780455236667

Lawbook Co., AUSTRALIA

Enquiry Sent

A member of our support team will be in touch with you within 1 business day.

Sales Enquiry Form

Natural Resources Law

For questions about how to use this product or to get help with your account please visit the Help Centre or Contact Support directly.
Description
Natural Resources Law is a compilation of material from six Thomson Reuters' publications. Covering Environmental Law, Water Law, Emissions Trading Law and Animal Law, the text provides a foundation to students studying this area of law.
Compiled for students studying at the University of New England, this compilation is available to other educational institutions.
NOTE: This publication is no longer available in hard copy format and is only available for purchase as an ebook from VitalSource. Click here for the ebook.
Table of Contents
PART 1 - ENVIRONMENTAL LAW
1. Commonwealth Environmental Law
2. The Normative Sources of Sustainability
3. Sustainability in Australian Legislation
4. Rules of Limitation - Regulatory, Liability and Market Rules
5. Facilitation of Resource Development
6. The International Framework of Environmental Law
7. Agriculture
8. Biodiversity
9. Forests Law
10. Coastal and Riverside Land
11. Water Supply
12. Catchment Management
13. Mining
14. Fisheries and Aquatic Ecosystems
PART 2 - WATER LAW
15. Australian Water Law - Introduction
16. Evolution of Water Rights
17. Water Planning and Management
18. Rights to Access and Use Water
19. Water Markets: Dealing and Trading in Water Rights
20. Community Water and Sewerage Infrastructure and Services
21. Access and Competition
22. Environmental Water and Protection
23. Water Quality
PART 3 - EMISSIONS TRADING LAW
24. Emissions Trading Schemes
25. Movement towards an Australian Emissions Trading Scheme
26. The Principal Statutory Authorities
PART 4 - ANIMAL LAW
27. Overview of Animal Law in Australia