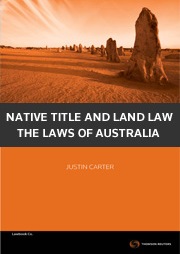 Native Title and Land Law: The Laws of Australia ebook
eBook - ProView

Date: 08/12/2015

Code: 9780455237541

Thomson Reuters, AUSTRALIA

Native Title and Land Law: The Laws of Australia ebook
Description
Native Title and Land Law - The Laws of Australia provides comprehensive coverage and analysis of common law principles relating to, and the statutory regulation of native title and land law in Australia.
Native Title and Land Law - The Laws of Australia provides easy to read and insightful commentary on topics including:
constitutional status;
Aboriginal customary law;
native title at common law;
native title legislation;
land law in all jurisdictions;
cultural heritage.
This material is also published as part of Title 1 "Aborigines and Torres Strait Islanders" of The Laws of Australia legal encyclopaedia. As such it retains that work's easy-to-read style: each main paragraph opens with a bold proposition that encapsulates the relevant legal principle, while the text that follows sets out and analyses complexities, nuances and developments in the law. Extensive referencing makes The Laws of Australia the ideal starting point for research across any Australian jurisdiction.
Justin Carter is a Barrister at the Queensland Bar and was Associate to The Hon Justice Keane (then on the Queensland Court of Appeal), Justices Bell and Barry of the Family Court of Australia, and judges of the Federal Court of Australia. Justin is subeditor of the Queensland Reports and contributes as an updating author for the civil procedure and government titles in The Laws of Australia.
Table of Contents
Constitutional Status
Introduction
Sovereignty and Jurisdiction of Courts
Proposals for Treaty or Compact
Constitutional Law
Funding for Programs and Services
Citizenship and Electoral Rights
Social Justice Proposals for Constitutional Reform
Aboriginal Customary Law
Introduction
Recognition of Aboriginal Customary Law
Land Law
Introduction
Native Title at Common Law
Native Title Legislation
Commonwealth Legislation
Australian Capital Territory
New South Wales
Northern Territory
Queensland
South Australia
Tasmania
Victoria
Western Australia
Cultural Heritage
Introduction
*
eBooks and packages including an eBook may not be returned once the software key has been supplied. Your rights as a customer to access and use the ProView™ software and a ProView eBook are subject to acceptance of the ProView content licence agreement.
NB
An email with a registration key and instructions for accessing your eBook will be sent after checkout. For existing ProView users the eBook will appear in your library after checkout.

Forthcoming/pre-order eBooks will be available after the publication date.

The ProView app is not currently available on Kindle. See the latest system requirements