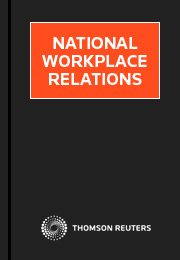 National Workplace Relations
Online

Date: 05/10/2007

Code: 41167423

Lawbook Co., AUSTRALIA

Enquiry Sent

A member of our support team will be in touch with you within 1 business day.

Sales Enquiry Form

National Workplace Relations

For questions about how to use this product or to get help with your account please visit the Help Centre or Contact Support directly.
Description
Workplace relations is a rapidly changing area of law. National Workplace Relations flexibly develops with the changes to help you stay informed and up-to-date.
This unique resource focuses on the primary national legislation, the Fair Work Act 2009. It also retains the repealed Workplace Relations Act 1996 to assist subscribers to understand and be able to research the changes over time.
Expert commentary explains and clarifies how the legislation has been interpreted and applied in practice. The service also includes related Regulations and Rules (some with commentary) and legislation relating to independent contractors, the building and construction industry, paid parental leave, trade practices law, tax and superannuation.
Relevant provisions of State and Territory legislation on annual and long service leave, civil liability and apprenticeships are also extracted to help address all your workplace relations information needs.

The service is updated approximately 7 times a year, ensuring you have access to the latest information and developments.
The online version also features:
Law-in-force legislation, with the currency status updated daily;
Relevant explanatory memoranda and statements; and
Point-in-time versions of the Workplace Relations Act 1996.
See also our FREE Workplace Insight community site: http://sites.thomsonreuters.com.au/workplace/ for a wide range of free information including news articles, information on the latest legislative changes, commentary pieces written by workplace relations experts, further detail on our full range of workplace related products, and much more. The site is a useful first place of reference for those interested in what is happening in workplace relations today. Subscribe for a complimentary RSS or daily email feed.
Fair Work Legislation 2019-20
Do you need a portable volume of the essential legislation with key section annotations? Take a look at Fair Work Legislation 2019-20, published September 2019.