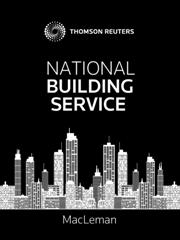 National Building Service Online
Online

Date: 11/04/2007

Code: 41167111

Lawbook Co., AUSTRALIA

Enquiry Sent

A member of our support team will be in touch with you within 1 business day.

Sales Enquiry Form

National Building Service Online

For questions about how to use this product or to get help with your account please visit the Help Centre or Contact Support directly.
Description
Content
Thomson Reuters publishes the National Construction Code (NCC) in print and online formats, and via our eReader app ProView. Annotations to the Building Code and the Plumbing Code provide expert practical guidance and interpretation of select clauses of the NCC.
Jurisdictional variations
Understanding state application of the NCC is critical for building professionals and legal advisers. This service incorporates state variations within the relevant sections, minimising the risk of overlooking state particulars. At a glance, one can see if any variations, deletions or additions have been adopted. Full text is included so readers can immediately understand the impact of the variation. For a high-level overview of the application of variations, they are also outlined in the Table of Contents of each Part to the Code and are included in the Appendices. Each variation also includes a history note, which provides context to readers about when and how the variation was last amended.
Additional enhancements
Additional authored enhancements to the BCA material include:
Expert explanation of the definitions set out in A1.1 of the BCA.
Guidance on terms used in the Code, but which are not defined in the Code.
Tables that highlight the BCA provisions relevant to Architects and Surveyors.
Tables that highlight the Standards relevant to Architects and Building Surveyors.
Index
In order to search the content easily and find a relevant provision quickly, theNCC has been indexed by subject area. The index provides access to the relevant provision of the Code or the relevant annotation as required. A list of Abbreviations and Symbols used in the Code is also included.
Historical versions
Historical versions of the BCA, dating back to 2010, are available in downloadable PDF format in both the online product and in ProView. The PDFs include point-in-time expert authored commentary and the full text of state-based variations within the relevant provisions.
Navigation
The NCC is easily navigated. The Code is split into quickly-identifiable Parts with a detailed Table of Contents including state-based variation information as applicable. Tabcards clearly identify the different Parts in the looseleaf and hyperlinks are contained throughout the online and ProView version of the content so readers can easily jump from topic to Code provision or authored commentary.