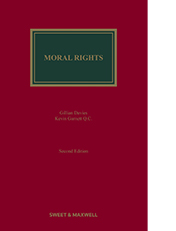 Moral Rights 2e
Book

Date: 21/11/2016

Code: 9780414055575

Sweet & Maxwell, UNITED KINGDOM
Description
Moral Rights is an essential reference on an increasingly important subject. This book clearly and comprehensively looks at the impact and protection of these rights in the UK as well as providing a comparative analysis of moral rights in key jurisdictions across the world. It is the definitive resource on moral rights on the national and international stage
The 2nd Edition includes:
• Comprehensive commentary on the development and impact of moral rights in the United Kingdom, clarifying exactly how the law protects them.
• Provides international comparative analysis of the origins, principles, and law governing moral rights.
• Analyses the legal position in over 20 key jurisdictions with an additional table summarising moral rights in more than 160 countries.
• Discusses the history and theory of moral rights and their development in both common law and civil law jurisdictions.
• Full examination of moral rights in the United Kingdom, analysing the four distinct rights conferred by the Copyright, Designs and Patents Act 1988 as well as those rights that are not protected.
• Systematic commentary on the treatment of moral rights in key jurisdictions across the world, including France, Russia, China, Israel, Latin America, and the USA.
• Each jurisdiction analysed under the same headings to allow for simple and clear comparisons.
• Addresses key questions of assignment and duration, infringement, remedies, penalties, and the waiving of rights.
• Incorporates relevant sections of the Copyright, Designs and Patents Act 1988 for ease of reference.
• Assesses the position and role of moral rights in the modern day.
• Provides the reader with a valuable resource on a subject that is often in the shadow of economic rights.
New to this Edition
• Fully updated analysis to reflect the latest and most significant changes in moral rights law across the world.
• Expanded international coverage with the inclusion of six new jurisdictions, all examined in detail:
Czech Republic
Egypt
Hungary
India
Slovakia
Table of Contents
Part I The nature and origins of moral rights
Introduction
Origins of the theory of moral rights
The international development of moral rights
Moral rights in international instruments
Moral rights in the European Union
Part II Moral rights under United Kingdom law
Belgium
Czech Republic & Slovakia – new
France
Germany
Greece
Hungary
Italy
The Netherlands
Nordic Countries
Portugal
Spain
Switzerland
Russian Federation
Australia
Canada
China
Egypt
India
Israel
Japan
Latin America
United States of America
Table of National Laws on Moral Rights
Territoriality, Jurisdiction and Applicable Law…
An Assessment
Part IV General considerations
Territoriality, jurisdiction and applicable law issues in international moral rights disputes
Moral rights in 2010: an assessment