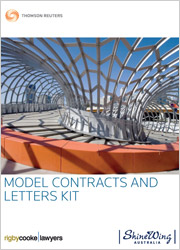 Model Contracts & Letters Kit
CD

Date: 01/06/2012

Code: 30138023

Thomson Reuters, AUSTRALIA

Model Contracts & Letters Kit
Description
Model Contracts and Letters Kit provides the tools needed to help you more easily meet your clients' and your own compliance obligations. Authored and formulated by commercial law experts Rigby Cooke Lawyers and accounting specialists ShineWing Australia, this service gives you a suite of flexible documents that can be used as they are or customised to suit your needs.
Published online and on the portable format of CD, the Kit includes practical business agreements, precedents, standard letters, checklists, calculators and general forms so that practice firms and general businesses can streamline their administrative workflow. Each tool a complete template, this toolkit operates as a key time-saving resource for subscribers' business.
Features
An extensive range of approximately 50 draft model agreements and contracts covering key situations that could impact on you or your clients' business.
A suite of approximately 170 standard letter templates that help you correspond effectively with clients on compliance obligations.
Checklists that help you cover key requirements for individual tax return, company tax return and FBT return preparation.
Calculators for motor vehicle claims, FBT on motor vehicle claims, CGT comparative claims and individual tax.
*
Price is for a single annual subscription for firms or businesses with one practitioner. Practitioner is defined as employed and/or self-employed professionals within Australia including: solicitors, self-employed barristers, HR professionals and environmental specialists, corporate counsel, accountants including CPAs and CAs and registered tax agents and financial planners. For pricing for government departments and authorities and multiple users please call 1300 304 195.