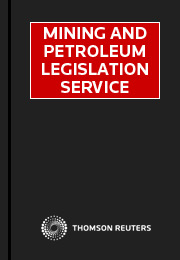 Mining and Petroleum Legislation (Qld)
Online

Date: 21/01/2010

Code: 41167409

Lawbook Co., AUSTRALIA

Enquiry Sent

A member of our support team will be in touch with you within 1 business day.

Sales Enquiry Form

Mining and Petroleum Legislation (Qld)

For questions about how to use this product or to get help with your account please visit the Help Centre or Contact Support directly.
Description
The Mining and Petroleum Legislation Service is a unique resource that brings together legislation and regulations relating to all forms of mining, mineral exploration, onshore and offshore petroleum and pipelines in Australia.
The service contains over 170 pieces of legislation covering the Commonwealth and each State and Territory jurisdiction. The legislation consists of the key Acts and Regulations on the following topics: Coal Mining, Mining & Fossicking, Mineral Resources, Geothermal Energy, Native Title, Offshore Petroleum, Offshore Minerals, Onshore Petroleum, Pipelines and Uranium.
The service is available online and in print as a complete 18-volume mining and petroleum law library covering Commonwealth and State legislation. Alternatively, subscribers can choose to subscribe to particular jurisdictions in which they work.
MINING & PETROLEUM LEGISLATION SERVICE (Queensland)
This subscription includes the following key pieces of legislation:
Coal Mining
- Coal Mining Safety and Health Act and Regulation
Mining
Mining and Quarrying Safety and Health Act and Regulation
Native Title
- Native Title (Queensland) Act 1993
- Aboriginal Land Act and Regulation
Carbon Capture and Storage
- Greenhouse Gas Storage Act and Regulation
Offshore Petroleum
- Petroleum (Submerged Lands) Act 1982
Mineral Resources
Mineral Resources Act and Regulation
Offshore Minerals Act 1998
Geothermal Energy
Geothermal Energy Act and Regulation
Onshore Petroleum
Petroleum Act and Regulation
Petroleum and Gas (Production and Safety) Act and Regulation
National Gas (Queensland) Act 2008