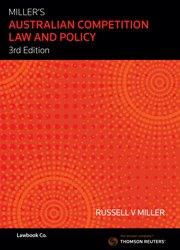 Miller's Australian Competition Law & Policy 3rd Edition eBook
eBook - ProView

Date: 10/04/2018

Code: 9780455238272

Lawbook Co., AUSTRALIA

Miller's Australian Competition Law & Policy 3rd Edition eBook
Description
Miller's Australian Competition Law and Policy, 3rd edition is a compelling treatise that explains Australian competition law as it is today and the underlying concepts and policy directions that produced it. It also draws on the development of competition law in other countries comparing them with the uniquely Australian features of our law.
Significant changes to the law that came into effect on 5 November 2017 as a result of the Harper Review, arguably the most extensive and far-reaching changes in the evolution of Australian competition law in over 40 years are explained in this 3rd edition.
A complementary work to "Miller's Australian Competition and Consumer Law Annotated" by explaining the historical and policy setting of the Competition and Consumer Act 2010 (previously the Trade Practices Act 1974).
Key benefits of Miller's Australian Competition Law and Policy
Provides guidance on the development of competition law in Australia explained in the framework of policy and the underlying concepts


Utilising a subject-based approach, it explains this complex area of law.
This book will be valuable for corporate lawyers, bureaucrats, students studying business or law, academics and practitioners seeking a contextual understanding of the law in this important area.
CONTENTS
Objectives of Competition Policy
Origins of Australian Competition Law
Development of Australian Competition Policy 1972 -1992
Development of Australian Competition Policy 1993 – 2017
Australian Competition Agencies and Institutions
Economics and Competition Policy
Concepts: Markets and Competition
Concepts: Substantial Effect on Competition
Coverage of Australian Competition Law
Anticompetitive Arrangements and Concerted Practices
Cartels
Unilateral Conduct Laws; Monopolisation and the Misuse of Market Power
Vertical Constraints – Tying and Other Vertical Restrictions
Resale Price Maintenance
Mergers and Acquisitions
Competitor Boycotts, Secondary Boycotts and Collective Bargaining
Access to Essential Facilities
Exclusions and Immunities
Consequences
Competitive Neutrality
*
eBooks and packages including an eBook may not be returned once the software key has been supplied. Your rights as a customer to access and use the ProViewâ"¢ software and a ProView eBook are subject to acceptance of the ProView content licence agreement.
NB
An email with a registration key and instructions for accessing your eBook will be sent after checkout. For existing ProView users the eBook will appear in your library after checkout.

Forthcoming/pre-order eBooks will be available after the publication date.

The ProView app is not currently available on Kindle. See the latest system requirements