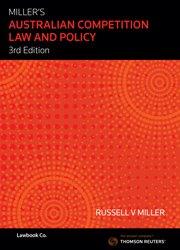 Miller's Australian Competition Law and Policy 3e ebk & bk
Book+eBook

Forthcoming Release, 27/03/2018

Code: 42030066

Lawbook Co., AUSTRALIA

Miller's Australian Competition Law and Policy 3e ebk & bk
Description
Miller's Australian Competition Law and Policy, 3rd edition guides readers through the development of Australian competition law, addressing its underlying concepts and policy directions.
A complementary work to "Miller's Australian Competition and Consumer Law Annotated" by explaining the historical and policy setting of the Competition and Consumer Act 2010 (previously the Trade Practices Act 1974).
Key benefits of Miller's Australian Competition Law and Policy
Provides guidance on the development of competition law in Australia explained in the framework of policy and the underlying concepts


Utilising a subject-based approach, it explains this complex area of law.
CONTENTS
Origins of Australian Competition Law
The Objectives of Competition Policy
Competition Law Concepts
Economics and Competition Policy
Development of Australian Competition Policy 1972 -1992
Development of Australian Competition Policy 1993 to date
Cartels
Anticompetitive Contracts, Arrangements, Understandings and Concerted Practices
Vertical Constraints – Tying and other Vertical Restrictions
Unilateral Conduct Laws; Monopolisation and the Misuse of Market Power
Resale Price Maintenance
Mergers and Acquisitions
Codes of Conduct
Boycotts
Access to Essential Facilities
Exclusions and Immunities
Conseqences
*
eBooks and packages including an eBook may not be returned once the software key has been supplied. Your rights as a customer to access and use the ProView™ software and a ProView eBook are subject to acceptance of the ProView content licence agreement.
NB
An email with a registration key and instructions for accessing your eBook will be sent after checkout. For existing ProView users the eBook will appear in your library after checkout.

Forthcoming/pre-order eBooks will be available after the publication date.

The ProView app is not currently available on IPhone or Kindle. See the latest system requirements
Pre-order: This item will be available on: 27 Mar 2018