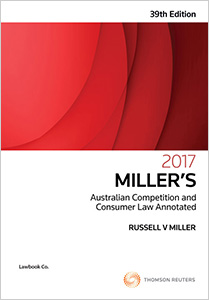 Miller's Australian Competition & Consumer Law Annot 39e 2017
Book

Date: 13/03/2017

Code: 9780455500140

Lawbook Co., AUSTRALIA

Miller's Australian Competition & Consumer Law Annot 39e 2017
Description
Businesses and advisers need to come to grips with the Competition and Consumer Act 2010 as it impacts on various aspects of day to day corporate activity.
For over 30 years, professionals have relied on Miller's for the full text of the updated Competition and Consumer Act (formerly the Trade Practices Act) and for Russell V Miller's expert insight into how its sections operate.
Practitioners and businesses will benefit from the updated legislation in this 39th edition, and from Russell Miller's annotation commentary at provision level, guiding readers through the meaning of the law with the benefit of judicial interpretation of the provisions of the Act. The book also contains related regulations and materials.
The 39th edition of Miller's is your essential resource for keeping pace with legislative and case law developments in competition and consumer law, providing the legislation consolidated for all 2016 amendments, and addressing all the key cases handed down in 2016.
Miller's Australian Competition and Consumer Law Annotated, 39th edition, 2017 provides the full text of the Competition and Consumer Act 2010 accompanied by Russell V Miller's expert insight on how its sections operate.
The legislation is consolidated to 1 January 2017.Highlights of this 39th edition include:
The controversial changes to the misuse of market power provision (s 46) introduced into Parliament at the end of last year
Proposed changes to the Act as a result of the Government's response to the Harper Review - in particular, annotations explaining the draft Bill issued by the Government as a discussion draft and providing readers with a view on what the law is likely to be when the changes are enacted this year
High Court decision in ACCC v Flight Centre Travel Group Ltd on the relationship between principals and their agents and the impact of competition law on that relationship
Amendments to the Act with a new Part IVC to address the issue of excessive surcharges on debit and credit cards
The full Federal Court decision in ACCC v P T Garuda Indonesia on price-fixing in air cargo (currently on appeal to High Court)
Coverage of DPP (Cth) v Nippon Yusen Kabushiki Kaisha, the first criminal prosecution of a corporation under the cartel provision, s 44ZZRG
Extended commentary on collective boycott notifications
New country of origin provisions
Updated commentary on the principles for assessing penalties
Unfair contract terms – the extension to business-to-business transactions and extended annotations on the meaning of key terms
From the Foreword to the 39th edition of Miller's by Rod Sims, Chairman of the ACCC:
"Whether the reader is seeking to understand court outcomes, tribunal decisions or legislative changes, Millers paints a clear picture of Australia's competition and consumer laws."
CONTENTS
Tables
Competition and Consumer Act 2010
Competition and Consumer Regulations
ACCC Immunity Policy for Cartel Conduct
ACCC Immunity Policy Interpretation Guidelines
Related Regulations and Materials.