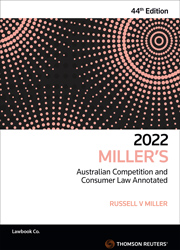 Miller's Australian Competition and Consumer Law Annotated 44th Edition 2022 - Book & eBook
Book+eBook

Date: 31/03/2022

Code: 43006390

Lawbook Co., AUSTRALIA

Miller's Australian Competition and Consumer Law Annotated 44th Edition 2022 - Book & eBook
Description
The 44th edition of Miller includes 116 new annotations and 430 updates, including 160 new court and Tribunal decisions and 5 legislative changes in force or proposed including:
Access Regime – the latest High Court and Tribunal decisions on access to the Port of Newcastle. Proposed legislative reforms to improve the timeliness of processes under the National Access Regime.
Consumer rights – Increased monetary threshold for the definition of 'consumer' in the Australian Consumer Law from $40,000 to $100,000 with effect from 1 July 2021.
Cartels – the successful criminal cartel prosecutions in Wallenius Wilhelmsen, and Joyce (the first concluded against an individual), the unsuccessful prosecution in Country Care, and the ongoing challenges to attempts to prosecute bankers in Citigroup.
Consumer data rights – annotations on this extensive and detailed new right.
Country of origin – Authority by regulation to prescribe one or more processes deemed to satisfy the definition of 'substantially transformed'.
Crown immunity – the decision in NSW Ports that, in entering compensation deeds as part of a privatisation of NSW ports, claimed to be anticompetitive, were not entered in the course of the state carrying on a business.
Franchises – the imposition of a new type of redress order, as well as pecuniary penalties, in Megasave Couriers.
Grocery pricing – a new Retail Grocery Industry (Unit Pricing) Code to replace the code that expired on 1 October 2021.
Legislation - new news media digital platform code (Part IVBA).
Legislation – new motor vehicle service and repair information sharing scheme (Part IVD).
Legislation - expansion of the Part IVB (industry codes)
Misuse of market power – the latest foreclosure case, Tas Ports
Unfair contract terms - exposure draft Bill to strengthening protections for consumers and businesses.
*
eBooks and packages including an eBook may not be returned once the software key has been supplied. Your rights as a customer to access and use the ProViewâ"¢ software and a ProView eBook are subject to acceptance of the ProView content licence agreement.
NB
An email with a registration key and instructions for accessing your eBook will be sent after checkout. For existing ProView users the eBook will appear in your library after checkout.

Forthcoming/pre-order eBooks will be available after the publication date.

The ProView app is not currently available on Kindle. See the latest system requirements