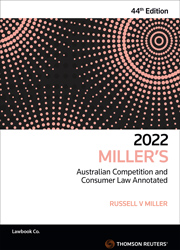 Miller's Australian Competition and Consumer Law Annotated 44th Edition 2022 - Book & eBook
Book+eBook

Forthcoming Release, 04/03/2022

Code: 43006390

Lawbook Co., AUSTRALIA

Miller's Australian Competition and Consumer Law Annotated 44th Edition 2022 - Book & eBook
Description
The 44th edition of Miller includes new legislation, over 80 new annotations, over 300 updates and over 130 additional court decisions including:
• Authorisations – summaries of over 60 new authorisation decisions, including decisions prompted by the COVID-19 pandemic.
• Cartels – the latest criminal cartel cases, DPP v Wallenius Wilhelmsen Ocean AS and Country Care Group v DPP, plus an immunity process challenge in DPP v Citigroup.
• Franchising – review of the approach to interpreting the Franchise Code applying Freedom Foods Pty Ltd v Blue Diamond Growers.
• Merger 'gun jumping'- recent ACCC action where mergers close before it has completed its investigations.
• Mergers – admissibility in later proceedings of information supplied to the ACCC when seeking an informal merger clearance - ACCC v BlueScope Steel
• Misleading conduct – claims for immunity for expert witness misstatements considered in Borody v Vickers.
• Misleading conduct – updated annotations on the test for liability after ACCC v TPG Internet, Trivago NV v ACCC, Hashtag Burgers v In-NOut Burgers, ACCC v Google No 2 and State Street v Maurice Blackburn.
• News Media and Digital Platforms Mandatory Bargaining Code – New Part IVBA inserted with effect from 3 March 2021.
• Penalties – review of the principles in assessing penalties taking account of recent decisions in Volkswagen Aktiengesellschaft v ACCC, ACCC v Telstra, Pattinson v Australian Building and Construction Commissioner and Director of Consumer Affairs Victoria v Gibson (No 3).
• Unfair contract terms – proposed significant changes to the unfair contract terms regime including imposing civil penalties to be introduced in 2022, extension of the provisions to insurance contracts from 5 April 2021, and the latest Federal court decision ASIC v Bank of Queensland.
• Unconscionable conduct – expansion of the annotations taking account of recent Federal Court decisions including Ali v ACCC, ACCC v Quantum Housing Group and the split High Court decision in ASIC v Kobelt.
*
eBooks and packages including an eBook may not be returned once the software key has been supplied. Your rights as a customer to access and use the ProView™ software and a ProView eBook are subject to acceptance of the ProView content licence agreement.
NB
An email with a registration key and instructions for accessing your eBook will be sent after checkout. For existing ProView users the eBook will appear in your library after checkout.

Forthcoming/pre-order eBooks will be available after the publication date.

The ProView app is not currently available on Kindle. See the latest system requirements
Pre-order: This item will be available on: 04 Mar 2022