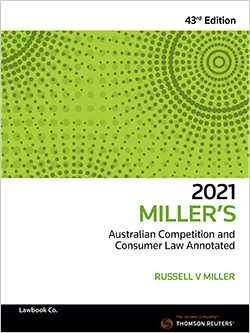 Miller's Aust Comp and Cons Law Annotated 43 e 2021 eBk and Book
Book+eBook

Date: 08/03/2021

Code: 42839137

Lawbook Co., AUSTRALIA

Miller's Aust Comp and Cons Law Annotated 43 e 2021 eBk and Book
Description
The 43rd edition of Miller's includes over 226 revised annotation paragraphs, 87 cases and 62 new annotation paragraphs including:
Consumer rights – increased monetary threshold for the application of the Australian Consumer Law from $40,000 to $100,000 with effect from 1 July 2021.
Consumer protection: electricity industry – annotations of the new prohibited conduct regime which came into effect on 10 June 2020.
Cartels – Country Care Group Pty Ltd v Director of Public Prosecutions (Cth) [2020] FCAFC 30 clarifying the law on aiding and abetting attempted cartel conduct.
Mergers – ACCC v Pacific National Pty Ltd [2020] FCAFC 77, the latest Full Court decision on mergers.
Consumer protection – ACCC v TPG Internet Pty Ltd [2020] FCAFC 130 in which a Full Court cast doubt on the "significant" or "substantial" proportion of persons requirement to establish whether the relevant class of the public is likely to be misled.
Franchising Code – extended, with effect from 1 June 2020, to include provisions a specific to dealership agreements for new vehicles.
Proposed Digital Media Code – the controversial proposal for a mandatory news media bargaining code.
Access Regime – the latest Full Court decision, Glencore Coal Assets Australia Pty Ltd v Australian Competition Tribunal [2020] FCAFC 145, clarifying Part IIIA and the role of the ACCC.
Penalties – ACCC v Geowash Pty Ltd (No 4) [2020] FCA 23 explaining the "same conduct" penalty rule when two penalty regimes are involved, and ACCC v Medibank Private Ltd [2020] FCA 1030 on the "course of conduct" principle and as a recent example of mitigating circumstances warranting a reduction in penalty.
Compliance programs – a recent example from ACCC v HealthEngine Pty Ltd [2020] FCA 1203.
Food and Grocery Code – updated with effect from 3 October 2020, following the recommendations of the Independent Review of the Food and Grocery Code of Conduct by Graeme Samuel AC.
Damages – the latest High Court decision, Berry v CCL Secure Pty Ltd [2020] HCA 27, explaining the approach to assessing damages for value of the lost opportunity.
Country of origin – authority by regulation, with effect from 1 October 2020, to prescribe one or more processes deemed to satisfy the definition of "substantially transformed".
Consumer protection – the latest Full Court example, ACCC v Woolworths Group Ltd [2020] FCAFC 162, on what a "future matter" involves.
Table of Contents
Competition and Consumer Act 2010 (except Sch 1)
Competition and Consumer Regulations 2010 (except Schs 1 and 3 forms)
Competition and Consumer (Industry Codes—Franchising) Regulation 2014
Competition and Consumer (Industry Codes—Food and Grocery) Regulation 2015
Competition and Consumer (Industry Code—Electricity Retail) Regulations 2019
Competition and Consumer (Industry Codes—Dairy) Regulations 2019
Trade Practices (Industry Codes—Unit Pricing) Regulations 2009
Merger Guidelines 2008 (21 November 2008 version, amended November 2017)
Informal Merger Review Process Guidelines (September 2013 version, amended November 2017)
Merger Authorisation Guidelines (24 October 2018 version)
Application for authorisation of a proposed merger or acquisition (November 2017 version)
Media Merger Guidelines 2017 and
ACCC immunity and cooperation policy for cartel conduct (October 2019 version)