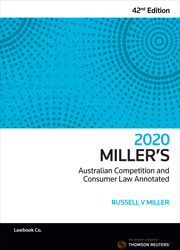 Millers Aust Comp and Cons Law Annotated 42 e 2020
Book

Date: 22/04/2020

Code: 9780455501628

Lawbook Co., AUSTRALIA

Millers Aust Comp and Cons Law Annotated 42 e 2020
Description
Miller's Australian Competition and Consumer Law Annotated has established itself as the essential resource on the Competition and Consumer Act 2010 (Cth). Practitioners, businesses, academics and students will benefit from the updated legislation in this 42nd edition, and from Russell Miller's expert annotation commentary at provision level, guiding readers through the meaning of the law with the benefit of judicial interpretation of the provisions of the Act. The book also contains related legislation and materials.
The legislation is consolidated to 1 January 2020.
The highlights of this edition are:
Cartels – application of the cartel provisions to commercial negotiations – ACCC v Cascade Coal Pty Ltd [2019] FCAFC 154. Finalisation of the long running case against Garuda, rejecting a State immunity claim - ACCC v PT Garuda Indonesia Ltd [2019] FCA 786.
Consumer remedies – the Full Court's analysis of the ACL remedy provisions – Wyzenbeek v Australasian Marine Imports Pty Ltd (in liq) [2019] FCAFC 167.
Intellectual property – removal of one of the IP exceptions – s 51(3).
Immunity policy – the ACCC's October 2019 update to its immunity policy and discussion of practical implications, and DPP (Cth) v Kawasaki Kisen Kaisha Ltd [2019] FCA 1170 – an example of an unsuccessful attempt to obtain an immunity marker.
Legislation – the new Treasury Laws Amendment (Prohibiting Energy Market Misconduct) Bill 2019 (Cth).
Mergers – the position in relation to "gun jumping" after ACCC v Cryosite Ltd [2019] FCA 116 and the ACCC's new guideline.