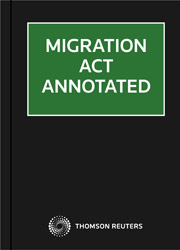 Migration Act Annotated
Online

Date: 30/11/2014

Code: 41698654

Lawbook Co., AUSTRALIA

Enquiry Sent

A member of our support team will be in touch with you within 1 business day.

Sales Enquiry Form

Migration Act Annotated

For questions about how to use this product or to get help with your account please visit the Help Centre or Contact Support directly.
Description
Migration Act Annotated comprises the full text of the Migration Act 1958 accompanied by clear and comprehensive annotations to the Act written by Ben Petrie and Natasha Bosnjak. It also includes the Migration Regulations 1994.
Other legislation now included in the service:
Immigration (Guardianship of Children) Act 1946;
Migration (Visa Application) Charge Act 1997;
Migration Agents Registration Application Charge Act 1997;
Border Protection (Validation and Enforcement Powers) Act 2001;
Migration Legislation Amendment (Overseas Students) Act 2000.
Australian Government regulations now included:
Immigration (Guardianship of Children) Regulations 2001;
Migration Agents Registration Application Charge Regulations 1998;
Migration Agents Regulations 1998.
Features of Migration Act Annotated:
Explains the scope and application of the Migration Act;
Updated four times per year with legislation updated as amendments come into force;
Provides guidance on relevant case law; and
Cross-refers to related instruments (Ministerial Directions and Legislative Instruments).
Migration Act Annotated will be the first of its kind and will assist those applying for visas, those with applications in the Migration Review Tribunal and Refugee Review Tribunal and those involved in migration litigation generally.
Migration Act Annotated is updated four times per year, or more, with legislation updated as amendments come into force. It contains all the features unique to Thomson Reuters' online publications, including "law in force" legislation alerts, easy to use searching, and (subject to separate subscription) full integration with other products such as FirstPoint case research and full text authorised reports, including the Federal Court Reports and Commonwealth Law Reports.
This work will serve as a practical guide to legal practitioners (both solicitors and barristers), migration agents and those interested in the application of the Migration Act.
Author information:
Ben PETRIE- Senior Associate, Clayton Utz
Senior Lawyer, Clayton Utz
Ben works in Clayton Utz's commercial litigation and dispute resolution department. His current practice focuses on migration law, administrative and public law, commercial disputes, defamation, energy regulation, trade practices and social media. In addition to having carriage of such matters, he regularly appear in both state and federal courts and various tribunals in both interlocutory and final hearings.
Natasha Bosnjak – Senior Associate, Clayton Utz
Natasha conducts litigation in the High Court, Federal Court, Federal Magistrates Court, Supreme Court of Victoria, County Court of Victoria, Administrative Appeal Tribunal and Victorian Civil and Administrative Appeals Tribunal. Her areas of focus include: general commercial disputes, administrative law, energy and resources and migration law.