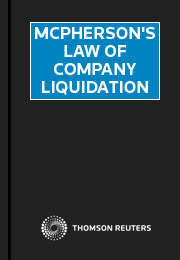 McPherson's Law of Company Liquidation
Online

Date: 09/12/2005

Code: 41167497

Lawbook Co., AUSTRALIA

Enquiry Sent

A member of our support team will be in touch with you within 1 business day.

Sales Enquiry Form

McPherson's Law of Company Liquidation

For questions about how to use this product or to get help with your account please visit the Help Centre or Contact Support directly.
Description
Logan J of the Federal Court described McPherson's Law of Company Liquidation as "the definitive Australian text on corporate insolvency law": see DCT v PM Investments (2008) 26 ACLC 1551; [2008] FCA 1886, at [32].

Company liquidation is one of the most active areas in insolvency. The authors Michael Gronow and Stewart Maiden write from the perspective of guiding liquidators and those representing creditors and contributories through the processes of winding up: modes of winding up and applications for winding up by creditors, contributories and others; commencement and effects of winding up; duties, functions and status of liquidators; available assets and their distribution regime; investigations, examinations and prosecutions; termination of winding up and relevant private international law.

McPherson's Law of Company Liquidation provides subscribers with the main points of relevant cases and puts them into context in this challenging and dynamic area of the law. Further developments to the online service has been the introduction of a "Breaking News" feature, which publishes current news including topical discussion papers, up-to-date information on Bills before Parliament and relevant media releases.

As a subscription service, it converts legal information into a powerful, time-saving research tool.