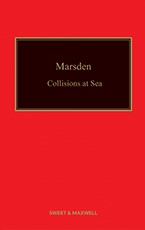 Marsden: Collisions at Sea 15th Edition
Book

Date: 25/05/2021

Code: 9780414070356

Sweet & Maxwell, UNITED KINGDOM

Marsden: Collisions at Sea 15th Edition
Description
Marsden forms part of the highly respected British Shipping Law Series. It serves as an in-depth guide to the specialist and self-contained area of Collision and Loss in maritime law examining recent cases and convention developments. The 15th edition, edited by Professor Andrew Tettenborn and John Kimbell QC, has been updated not only in substance, but in arrangement, instigating a more modern and clearer structure. The commentary proceeds seamlessly from navigational fault and the interpretation of the Collision Regulations, towards special liability regimes and pollution and throughout the remainder of the text.
New to this edition
Comments upon how Brexit relates to the jurisdiction of the Admiralty Court
Provides fresh commentary on the Admiralty Court's procedural rules and practice
Covers the Supreme Court decision in Evergreen Marine UK v Nautical Challenge (2021) on the application of the Collision Regulations
Key cases covered include:

Arrest, for instance, Deutsche Bank v MV Sertao (2018) and The Alkyon (2019),
Limitation in The Cape Bari (2017) and
Damages in The Hanjin Shenzhen (2014)
Features
Marsden and Gault on Collisions at Sea is the undisputed authority in its field of Maritime Law.
The book is structured around a detailed examination of Jurisdiction, Liability under contract and statute the rights of claimants and salvage.
Marsden and Gault also includes a comprehensive Appendices covering all the core areas of Merchant Shipping Regulations which will be of key ready reference, to any practitioner dealing with a Collision case.
Collisions at Sea, remains a unique work providing complete guidance on the very broad subject of Maritime Collisions within one volume.
The new edition contains substantial commentary on recent legislation across the board in shipping law from some of the world's leading shipping law Practitioners and Academics. e.g. Professor Andrew Tettenborn from Exeter University, Steven Hazelwood from Ince & Co, Simon Gault a leading Arbitrator from 4 Essex Court Chambers.
Marsden and Gault examines existing and recent case law and regulatory developments, especially the new International Convention on Wrecks.
It will offer greater coverage of new international conventions e.g. On Hazardous and Noxious substances and Civil Liability.
It will also examine afresh the awards system of salvage arbitrators
It will also have a thorough coverage of new cases, Sis and ongoing interpretation of new and existing Maritime regulations;
Coverage of the new Nairobi International Convention on Wrecks; the new sound legal basis under which coastal States can remove or have removed Hazardous Wrecks from their coastline.
Additionally the text will also look at the existing Civil Liability Convention 1992 adopted to ensure that adequate compensation is available to persons who suffer oil pollution damage resulting from maritime casualties involving oil-carrying ships.
There is also examination of the Hazardous and Noxious Substances Conventions (HNS) 1996 which covers in detail the International Convention on Liability and Compensation for Damage in Connection with the Carriage of Hazardous and Noxious Substances by Sea .
Increased coverage of the growing area of underwater cultural property and treasure; and their relationship to Admiralty Law
More coverage of environmental concerns, which have become an increasingly important consideration in modern salvage operations; effectively how do we limit the impact on the environment of a polluting accident by rapid and effective salvage action..
The role and claims of both Salvors and Coastal states in dealing with the environmentally sensitive issues arising from dealing with polluting sea casualties are examined
More coverage of EU and international materials than in the previous edition; e.g. The formation of the European Maritime Safety Agency.
Greater research into and incorporation of the awards of salvage arbitrators, which in practice dominate the actual "case law" of salvage matters.
Discussion will include the use of Lloyds Open Form which provides a regime for determining the amount of remuneration to be awarded to salvors for their services in saving property at sea and minimising or preventing damage to the environment.
Contains appendices authored by ship captains advising on navigational systems and maritime procedure.
Table of Contents
Introduction
Jurisdiction of the English courts
Claimants
Liability in Tort
Regulations for preventing collisions at sea
The Collision Regulations annotated
Liability in Contract
Liability under statute
Salvage and General Average
Oil Pollution
Defences
Defendants
Causation
The Rule as to division of loss
Damages
Limitation of Liability
Foreign law
Practice and Procedure
Costs
Criminal liability
Shipping Inquiries
Appendices