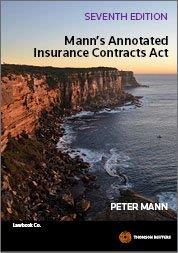 Mann's Annotated Insurance Contracts Act, 7th Edition
Book

Date: 08/09/2016

Code: 9780455500096

Lawbook Co., AUSTRALIA

Mann's Annotated Insurance Contracts Act, 7th Edition
Description
Mann's Annotated Insurance Contracts Act, 7th edition provides the full text of the Insurance Contracts Act 1984 accompanied by clear and concise annotations, explaining the operation of the Act. Accompanying the annotated Insurance Contracts Act, the work also contains related legislation and materials.
Celebrating 30 years since the commencement of the Insurance Contracts Act 1984 on 1 January 1986, this 7th edition of Mann's Annotated Insurance Contracts Act marks an important milestone in the Act's history. It incorporates all the amendments made to the ICA by the Insurance Contracts Amendment Act 2013 (ICAA 2013) and its significant regime of changes. There changes covered the areas of: utmost good faith, electronic communication, the powers of ASIC, disclosure and misrepresentations, remedies under contracts of life insurance, the rights of third party beneficiaries and subrogation.
Various tranches of the amendments came into effect on four separate dates which included the date of assent, that is, 28 June 2013, 28 December 2013, 28 June 2014 with the final amendments becoming operative on 28 December 2015. The 2013 amendments generally apply to contracts of insurance entered into, or renewed, or varied after the respective commencement date. Mann's Annotated Insurance Contracts Act will assist practitioners, when determining whether the pre amendment "old" section or the post amendment "new" section applies to a particular contract of insurance.
Since the publication of the 6th edition, commentary on sections 13 (utmost good faith), 21 (disclosure) and 54 (remedies) have been revised and over 20 additional cases have been incorporated into the annotations including the High Court decision in Maxwell v Highway Hauliers.
Mann's 7th edition is an essential publication for insurance lawyers, insurance professionals including underwriters, claims managers, insurance brokers, loss adjusters , academics and students as it provides a practical guide to the Insurance Contracts Act 1984 with annotations that discuss and analyse the provisions of this Act.
Contents
Insurance Contracts Act 1984 (annotated)
Insurance Contracts Regulations
General Insurance Code of Practice
Insurance Brokers' Code of Practice
Index