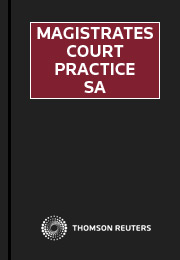 Magistrates Court Practice South Australia
Online

Date: 05/09/2001

Code: 41167122

Lawbook Co., AUSTRALIA

Enquiry Sent

A member of our support team will be in touch with you within 1 business day.

Sales Enquiry Form

Magistrates Court Practice South Australia

For questions about how to use this product or to get help with your account please visit the Help Centre or Contact Support directly.
Description
This is the essential service for those who practise in the civil jurisdiction of the South Australian Magistrates Court. It is the only subscription publication specialising in this jurisdiction in South Australia.
The authors are Dr Andrew Cannon, Deputy Chief Magistrate and Mr Garry Hiskey LLM (ex Senior Stipendiary Magistrate).
It contains the Magistrates Court Act 1991, the Magistrates Court (Civil) Rules 2013, Magistrates Court (Civil) Rules 1992 and associated legislation, commentary, relevant extracts from the District Court and Supreme Court Rules relating to appeals from the Magistrates Court, a useful guide for the preparation and running of civil matters, information on the specialist jurisdictions and latest developments. The Specialist Jurisdiction tabcard includes extracts and case law on Magistrates Court jurisdictions such as disputes arising from fencing, community and strata units, retail and commercial leases, criminal assets confiscation, personal injuries assessment, building and construction industry security of payments and the Corporations Act 2001 (Cth).
The Magistrates Court (Civil) Rules 2013 are reproduced for use in court and also in a separate annotated version for research. This service provides you with the cases, the practical tips and the legislation that you need to be kept informed of the latest procedural changes and decisions of the Magistrates Court that are unavailable elsewhere.