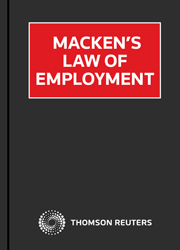 Macken's Law of Employment Online
Online

Date: 30/11/2018

Code: 42557536

Thomson Reuters, AUSTRALIA

Enquiry Sent

A member of our support team will be in touch with you within 1 business day.

Sales Enquiry Form

Macken's Law of Employment Online

For questions about how to use this product or to get help with your account please visit the Help Centre or Contact Support directly.
Description
For 40 years, students, academics and professionals have relied on Macken's Law of Employment as Australia's most respected text in employment law. The current edition (8e), written by Carolyn Sappideen, Paul O'Grady QC and Joellen Riley, published in 2016. Now, Macken's Law of Employment is publishing as a subscription service.
The subscription service is comprised of three main parts: commentary; Practical Law Notes and Developments; and full-text legislation.
Commentary: The commentary in the subscription service is the commentary of the current edition of Macken's Law of Employment (8e).
It is organised in two parts: Part 1 – The Employment Contract deals principally with a thorough analysis of common law principles applying to the employer-employee relationship; and Part 2 – Statutory workplace rights and Obligations addresses the statutory provisions governing employment, with careful attention to the intersections and overlaps between common law and statute.
Practical Law Notes and Developments: the commentary is supplemented by Notes written by the Practical Law Employment team from Thomson Reuters. These are concise descriptions of the key legal developments, both legislation and case law, affecting the topics discussed in the commentary. They are created in response to such developments, rather than to a pre-set schedule.
These Notes offer users useful pointers for the next step of their research on the Westlaw AU platform.
The Notes are accessed by clicking on links unobtrusively placed at relevant locations in the commentary. Users can choose to enjoy an uninterrupted reading experience by disregarding the links, or, by clicking on them, they can be taken to the "Developments: Practical Law Notes" section of the subscription where the Notes reside.
Legislation: a collection of full text legislation relevant to employment law is included as part of the subscription, enabling users to move straight to the text of provisions from references in the commentary.
Why Macken's Law of Employment?
Trust: the analysis in Macken's Law of Employment has earned practitioners' trust over four decades
Content: the subscription brings together commentary and legislation governing the law of employment for ease of access
Currency: Notes point out significant legal developments, offering you a pointer to the next step of your research
Westlaw AU functionality: cross-referencing and search functionality makes Macken's Law of Employment accessible in new ways, in the context of related primary content and analytical practitioner works (subject to subscription)
Table of Contents
DEVELOPMENTS: PRACTICAL LAW NOTES
INTRODUCTION
Employment law in an Age of Statutes
PART 1 – The Employment Contract
The Relationship of Employer and Employee
Labour Hire
Formation of Employment Contracts
Contractual Duties During the Employment
Duties of care and workplace safety
Suspension and stand-down
Terminating the Contract of Employment for Breach
Other Modes of Termination of the Contract of Employment
Remedies – Actions for Wages or Damages
Injunctions and Declarations
PART 2 – Statutory workplace rights and Obligations
Conditions of Employment
Statutory Protection for Job Security
Industrial Actions
Anti-discrimination law
FULL TEXT LEGISLATION relating to the Fair Work regime and Building and Construction Industry, as well as independent contractors, paid parental leave, discrimination, work health and safety, corporations, and competition and consumer law, and legislation and rules in relation to the Federal Court, Federal Circuit Court and Fair Work Commission.
*