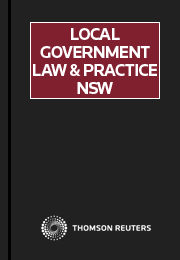 Local Government Law & Practice NSW
Online

Date: 20/03/2002

Code: 41167369

Lawbook Co., AUSTRALIA

Enquiry Sent

A member of our support team will be in touch with you within 1 business day.

Sales Enquiry Form

Local Government Law & Practice NSW

For questions about how to use this product or to get help with your account please visit the Help Centre or Contact Support directly.
Description
Local Government Law and Practice NSW provides current legislative amendments to the Local Government Act 1993 and related legislation, as well as commentary on cases and new developments by Lawrie Groom.
The Local Government Act 1993 and the Civil Liability Act 2002 with the text divided into chapter topics, is annotated with thorough and practical commentary on the application of each provision and reproduces in essential detail other related legislation, regulations and journal references relevant to local government law in practice.
Table of Amending Acts, list of Statutes affecting the Local Government Act, list of Ministers administering the Acts relevant to local government practice, casenotes, a recommended further reading guide and reports on new developments are also included.