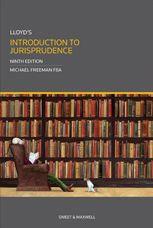 Lloyd's Introduction to Jurisprudence 9th edition Book+eBook
Book+eBook

Date: 03/11/2014

Code: 9780414037656

Sweet & Maxwell, UNITED KINGDOM

Lloyd's Introduction to Jurisprudence 9th edition Book+eBook
Description
Lloyd's Introduction to Jurisprudence is the leading textbook on jurisprudence in the English-speaking world, covering the whole field of jurisprudence.
Combines an authoritative text with extracts from a huge variety of authors, extracting the works of more than a hundred jurists
Gives critical insight into the texts with detailed and well-documented introductory sections
Examines the contributions made to legal theory by leading jurists from the Ancient Greeks to the postmodernists
Covers Aristotle, Raz, Habermas, Unger, Coleman, Perry, Kramer, Nelken and Iris Marion Young
Contains a new chapter on Ronald Dworkin, analysing his work
Places emphasis on Hart, particularly the "Postscript" and the commentary this has provoked
Provides more references to contemporary debates e.g. positivism v natural law
Offers a fuller discussion of justice, including global justice
*
eBooks and packages including an eBook may not be returned once the software key has been supplied. Your rights as a customer to access and use the ProView™ software and a ProView eBook are subject to acceptance of the ProView content licence agreement.
NB
An email with a registration key and instructions for accessing your eBook will be sent after checkout. For existing ProView users the eBook will appear in your library after checkout.

Forthcoming/pre-order eBooks will be available after the publication date.

The ProView app is not currently available on Kindle. See the latest system requirements