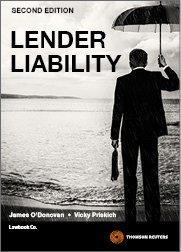 Lender Liability 2e
Book

Date: 21/12/2015

Code: 9780455225555

Thomson Reuters, AUSTRALIA
Description
"Lender Liability" is a guide to the potential liabilities facing a lender and the associated risks as well as the responsibilities and rights of lenders and consumers. Providing guidance for both corporate advisory and litigation lawyers in private practice as well as in-house counsel, this book will be the first point of call and the "go to" publication for these advisors on the legal issues surrounding the liability of lenders.
Significantly, the work is not confined to banks – it applies to any institution who lends - so it covers credit unions, pay day lenders, building societies, friendly societies, securitisers etc
TABLE OF CONTENTS
Chapter 1 – Contours and Theories of Lender Liability
Chapter 2 – Advertising Financial Services
Chapter 3 – Duty of Confidentiality
Chapter 4 – Investment of Financial Services: The General Law
Chapter 5 – Investment and Financial Advice: The Statutory Regimes
Chapter 6 – Formation of the Loan Contract and Collateral Securities
Chapter 7 – Consumer Credit
Chapter 8 – Breach of Loan Commitments
Chapter 9 – Performance Bonds, Standby Letters of Credit and Bank Guarantees
Chapter 10 – Syndicated Loans
Chapter 11 – Mistaken Receipts and Misdirected Funds at Law
Chapter 12 – Misdirected Funds in Equity
Chapter 13 – Fraudulent and Voidable Dispositions
Chapter 14 – Honest Intermeddling
Chapter 15 – Dishonest and Fraudulent Schemes
Chapter 16 – Unlawful Conduct
Chapter 17 – Enforcement of Remedies and Securities
Chapter 18 – Environmental Liabilities
Chapter 19 – Prevention and Cure
AUTHORS
Dr James O'Donovan, BA (QLD) (1969); LLB (Hons) (Qld) 1972; PhD (ANU) (1976) and LLD (Qld) (2004)
Dr James O'Donovan, formerly Professor of Law at the University of Western Australia, a Barrister and Solicitor of the Supreme Courts of Western Australia, Victoria and South Australia and a Solicitor of the Supreme Courts of Queensland and New South Wales. He is a member of the independent bar in Perth. Professor O'Donovan is the author of Company Receivers and Administrators (subscription – looseleaf and online), Lender Liability (English and Australian editions), Modern Contract of Guarantee (subscription – looseleaf and online) , Personal Property Securities Law in Australia (subscription – looseleaf and online).
Dr Vicky Priskich, LLB (UWA) (1993); LLD (Uni Melb) (2002)
Dr Vicky Priskich is currently practising as a barrister at the Victorian Bar. She is also admitted to practise in Western Australia. Her professional experience at the bar is in banking and finance litigation, trusts, insolvency, regulatory and commercial disputes involving energy law, competition and consumer law. Vicky has also lectured in Anti-Money Laundering, Corporate Banking and Finance Law. As well, Vicky has authored a number of articles published in various journals (Journal of Banking and Finance Law, Australian Bar Review and Companies and Securities Law Journal) and her most recent article being on Equitable set-off. Vicky is an accredited advocacy coach and coaches readers in the bar readers course at the Victoria Bar.