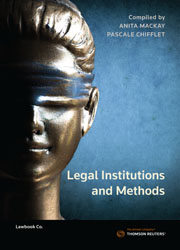 Legal Institutions and Methods
Book

Date: 20/12/2017

Code: 9780455240770

Lawbook Co., AUSTRALIA

Legal Institutions and Methods
Description
Legal Institutions and Methods is a first year text book introducing students to the Australian legal system, sources of law, access to justice and legal research, writing and study skills.
Dr Anita Mackay and Pascale Chifflet have sourced material from reputable Thomson Reuters publications to create this custom book for students at La Trobe University.
This textbook is available to other institutions as a prescribed or recommended text, or for any student or person wishing to gain an introductory understanding of the law combined with practical study skills.
Table of Contents
PART 1: LEGAL INSTITUTIONS
1. Nature and Sources of Law
2. Brief History of The Australian Legal System
3. Overview of the Criminal Justice System
4. Sources of Law: Parliament
5. Sources of Law: Courts
PART 2: ANALYSING AND INTERPRETING SOURCES OF LAW
6. Reading and Analysing Cases
7. Introduction to Statutory Interpretation
8. Approach to Solving Legal Problems: IRAC
PART 3: ACCESS TO JUSTICE
9. Inequalities and Justice
10. Access to Law
11. Legal Representation
12. Indigenous Australians
PART 4: LEGAL RESEARCH, WRITING AND STUDY SKILLS
13. Background to Legal Research and the Scenario used in the Legal Research Chapters
14. Finding Case Law
15. Finding Legislation
16. Using Secondary Sources
17. Study Skills
18. Preparing for Exams