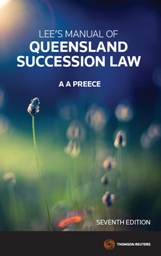 Lee's Manual of QLD Succession Law 7e eBook
eBook - ProView

Date: 16/12/2012

Code: 9780455231488

Thomson Reuters, AUSTRALIA

Lee's Manual of QLD Succession Law 7e eBook
Description
Since the publication of the 6th edition, principal legislative changes in Queensland's succession laws have been those necessitated by the creation of civil partnerships under the Civil Partnerships Act 2011 (Qld). The changes brought about by the Succession Amendment Act 2006 have so far resulted in a comparatively small number of cases interpreting this legislation, which is a strong indication of the success of those provisions. In addition to taking into account any legislative and case law amendments, this edition has therefore involved revising and making improvements to the existing content.
Lee's Manual of Queensland Succession Law 7th edition has been revised throughout to include more case references, particularly from other States, so as to facilitate the use of this work as the starting point for detailed legal research. There has also been an effort to increase and improve cross-referencing between related areas of succession law, and to more detailed or advanced legal literature.
Table of Contents
Introduction
The Functions of a Will
Probate Law – The Making of a Will
Probate Law – The Execution of Wills
The Revocation of Wills
Probate Law – Alterations in Wills, Republication and Revival of Wills
Death, Burial and Cremation
Personal Representatives, Probate and Administration
Personal Representatives – Their Duties, Powers, Liabilities and Rights
Legacies, Devises and Beneficiaries' Rights
The Payment of Debts – The Order of Application of Assets
Intestacy
Family Provision
The Construction of Wills – General Principles
The Construction of Wills – Descriptions of Property
The Construction of Wills – Descriptions of Beneficiaries
The Construction of Wills – The Quantum of the Interest to be Given
Addendum and Conclusion
*
eBooks and packages including an eBook may not be returned once the software key has been supplied. Your rights as a customer to access and use the ProView™ software and a ProView eBook are subject to acceptance of the ProView content licence agreement.
NB
An email with a registration key and instructions for accessing your eBook will be sent after checkout. For existing ProView users the eBook will appear in your library after checkout.

Forthcoming/pre-order eBooks will be available after the publication date.

The ProView app is not currently available on Kindle. See the latest system requirements