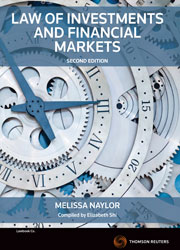 Law of Investments and Financial Markets 2nd ed Book+eBook
Book+eBook

Date: 30/06/2016

Code: 9780455237596

Lawbook Co., AUSTRALIA

Law of Investments and Financial Markets 2nd ed Book+eBook
Description
Law of Investments and Financial Markets examines the various areas of law that impact on investors and those working in industries associated with investment products. It covers Chapter 7 of the Corporations Act 2001 (Cth) and the requirements associated with licensing including the legal obligations and compliance requirements of licensees and their representatives, disclosure, dispute resolution and investor protection. This edition includes discussion of the latest amendments and reform process, as well as relevant regulatory guides and recent case law.
Various forms of investment are considered, including financial services and products, managed investments, real property and direct investments into companies. The main sources of law relating to these areas of study include:
legislation such as the Corporations Act 2001 (Cth); the Australian Securities and Investments Commission Act 2001 (Cth); the Competition and Consumer Act 2010 (Cth);
the common law, including fiduciary duties as well as contract law and the tort of negligence; and
administrative actions, by the Australian Securities and Investments Commission (ASIC) and the Australian Taxation Office (ATO) through regulatory guides and rulings.
This book provides most of the guidance that a serious investor may need on how the current law impacts on their particular investments. It is also designed to assist investment advisers to quickly and accurately find the appropriate law that relates to their requirements. Tertiary students of financial planning and finance law, as well as financial planners, accountants and lawyers practising in investment law will also find the book useful.
Table of Contents
Chapter 1 — The Nature of Investing in a Company
Chapter 2 — Members' Rights
Chapter 3 — Funding Company Operations
Chapter 4 — Corporate Governance
Chapter 5 — Corporate Insolvency
Chapter 6 — Managed Investment Schemes
Chapter 7 — Introduction to Investments and the Law
Chapter 8 — Common Law Framework for Market Participants
Chapter 9 — Regulation of the Financial Services Industry: Corporations Act, Chapter 7
Chapter 10 — Conduct and Disclosure in the Investment Advisory Process
Chapter 11 — Investor Protection and Dispute Resolution
Chapter 12 — Insider Trading: Using Inside Information
*
eBooks and packages including an eBook may not be returned once the software key has been supplied. Your rights as a customer to access and use the ProView™ software and a ProView eBook are subject to acceptance of the ProView content licence agreement.
NB
An email with a registration key and instructions for accessing your eBook will be sent after checkout. For existing ProView users the eBook will appear in your library after checkout.

Forthcoming/pre-order eBooks will be available after the publication date.

The ProView app is not currently available on Kindle. See the latest system requirements