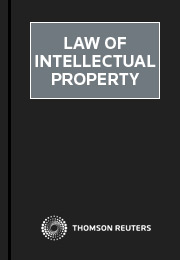 Law of Intellectual Property
eSub - ProView

Date: 29/07/2014

Code: 41638997

Thomson Reuters, AUSTRALIA

Enquiry Sent

A member of our support team will be in touch with you within 1 business day.

Sales Enquiry Form

Law of Intellectual Property

For questions about how to use this product or to get help with your account please visit the Help Centre or Contact Support directly.
Description
The Law of Intellectual Property Copyright, Design & Confidential Information provides insight on intellectual property rights relating to the protection of copyright, designs, trade secrets and commercial ideas. The content is concise to ease understanding difficult legal concepts, including the latest developments in intellectual property and their practical implications. The authors update the commentary jointly; Professor Ricketson covers developments in case-law and Chris Creswell attends to the copyright legislative and administrative changes.
The commentary is detailed, considered and comprehensive in its coverage. As well as dealing with many conceptual issues, the text concentrates on practical matters such as protection of rights, infringement, defences and remedies. The commentary is divided into five broad areas: Overarching Themes; Copyright and "Neighbouring Rights"; Other Rights Allied to Copyright; Designs; and Confidential Information and the Protection of Ideas.
A continuing enhancement is the cross-referencing from the provisions of the legislation to the commentary and analysis related to the provisions in the main text. The effects of recent judicial decisions are also monitored and discussed.
Features
Universally recognised as the standard reference on intellectual property law in Australia, written by Professor Ricketson, an internationally renowned copyright expert, and Chris Creswell, an expert with 20 years' experience in copyright law at national and international levels;
Commentary divided into main subject areas of Overarching Themes; Copyright; Other Rights Allied to Copyright; Designs; and Confidential Information and the Protection of Ideas;
Contains all relevant Australian legislative material and pertinent international agreements.