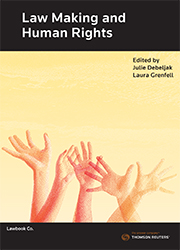 Law Making and Human Rights - Book & eBook
Book+eBook

Date: 03/02/2020

Code: 42664922

Lawbook Co., AUSTRALIA

Law Making and Human Rights - Book & eBook
Description
Law Making and Human Rights examines how rights figure in the law-making process. The topics covered in this new title are presented by experts and scholars to offer a comprehensive analysis of how rights are scrutinised in all Australian jurisdictions.
Table of Contents
Part I: Australia's Federal Statutory Human Rights Instrument for Law Making
1. Diverse Australian Landscapes of Law Making and Human Rights
Julie Debeljak, Laura Grenfell
2. Human Rights Scrutiny in the Federal Parliament: Smokescreen or Democratic Solution?
Adam Fletcher
3. Evaluating the Impact of Australia's Federal Human Rights Scrutiny Regime
Daniel Reynolds, George Williams
4. Allowing for Dissent: Opening up Human Rights Dialogue in the Australian Parliament
Simon Rice
5. Economic and Social Rights in the Australian Parliamentary Human Rights Scrutiny Process
Andrew Byrnes
Part II: Statutory Human Rights Instruments in the Australian Capital Territory, Victoria, New Zealand and the United Kingdom
6. Human Rights Scrutiny under the Human Rights Act 2004 (ACT)
Helen Watchirs, Sean Costello, Renuka Thilagaratnam
7. Considering Human Rights in the Development of Legislation in Victoria
Chris Humphreys, Jessica Cleaver, Catherine Roberts
8. Parliamentary Deliberation in the Operation of the Victorian Human Rights Charter
Sharon Mo
9. Rights Dialogue where there is Disagreement under the Victorian Charter
Julie Debeljak
10. Impact of the Victorian Charter upon Policy and Legislative Development
Joanna Davidson
11. Rights-vetting under the New Zealand Bill of Rights Act 1990
Paul Rishworth
12. Law Making in the Rights-Hostile Environment of the United Kingdom
Merris Amos
Part III: Diverse Practice across Queensland, New South Wales, Western Australia, South Australia, Tasmania and the Northern Territory
13. Queensland: Rights Scrutiny in Context
Charles Sampford
14. New South Wales: Insights into Influencing the Shape of Criminal Law Making
Luke McNamara, Julia Quilter
15. Western Australia: The Case for more Formalised and Heightened Rights Protection
Sarah Murray
16. South Australia: Ad Hoc and Unsystematic Rights Protection in Law Making
Laura Grenfell
17. Tasmania: Time to Move Beyond the Smoke and Mirrors
Rose Mackie, Anja Hilkemeijer
18. Northern Territory: Taking a Rights-Scrutiny Leap Forward and then Sliding Backwards
Laura Grenfell
Part IV: Contemporary Issues in Law Making and Human Rights
19. Scrutiny of a Federal Cooperative Law
Jeremy Gans
20. Influence of the Kable Principle on Human Rights in State Law-Making
Anna Olijnyk
21. Urgent Law-Making and the Human Rights (Parliamentary Scrutiny) Act
Shawn Rajanayagam
22. A Dual Scrutiny Mechanism for Australia's Counter-Terrorism Law Landscape: The INSLM and the PJCIS
Dominique Dalla-Pozza
23. Parliamentary Scrutiny and Insights for a First Nations Voice to Parliament
Shireen Morris
24. Parliamentary Committees Facilitating Parliamentary Deliberation: A Case Study of Marriage Equality Reform
Sarah Moulds
25. Future Directions for Engaging with Human Rights in Law Making
Laura Grenfell, Julie Debeljak
*
eBooks and packages including an eBook may not be returned once the software key has been supplied. Your rights as a customer to access and use the ProView™ software and a ProView eBook are subject to acceptance of the ProView content licence agreement.
NB
An email with a registration key and instructions for accessing your eBook will be sent after checkout. For existing ProView users the eBook will appear in your library after checkout.

Forthcoming/pre-order eBooks will be available after the publication date.

The ProView app is not currently available on Kindle. See the latest system requirements