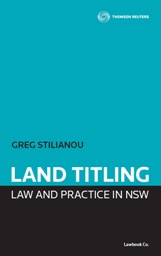 Land Titling Law and Practice in NSW
Book

Date: 25/06/2013

Code: 9780455229751

Lawbook Co., AUSTRALIA

Land Titling Law and Practice in NSW
Description
"For anyone working in the field of conveyancing this book could end up being the one most used in your property and conveyancing law library." Alan West, CEO Australian Institute of Conveyancers NSW.
Land titles law and the need to register dealings to acquire or dispose of an interest in land affect NSW practitioners every day. Yet requisitions and dealings with NSW's land registry - Land and Property Information (LPI) - can unnecessarily extend the process of administration of an estate, registering a mortgage or resolving a family law matter.
Land Titling Law and Practice in NSW is a practical handbook which assists lawyers and property professionals so that land dealings can be registered at the earliest time after lodgment. It explains how to minimise requisitions and effect a series of transactions with respect to "getting registered" efficiently, using clarifying examples and offering tips and guidance for working with the LPI. The book focuses on the Torrens Register and the types of interests that can be recorded in it, and, most importantly, how interests that are already recorded there may affect the registrability of a client's proposed transaction. In doing this, it connects those transactions back logically to the principle of indefeasibility of title.
Drawing on Greg Stilianou's working knowledge of land titling - and of what can go wrong - here is a practice tool for regular reference. For further help, the text is cross-referenced to the Thomson Reuters property subscriptions, including Baalman and Wells & Land Titles Office Practice NSW and Torrens System in NSW. The eBook edition includes links to forms and documents.
Understand the land ownership system in NSW and gain confidence in working with the LPI. By avoiding requisition delays, land dealings can be registered more efficiently, assisting clients in acquiring, disposing or creating a legal estate or interest in land.
Contents

Foreword
Preface
1 Legal Aspects of Land Titling
2 The Registrar-General and the Registrar-General's Directions
3 The Register: Lodgment, Registration and Recording
4 Transfers by a Mortgagee
5 Transmission Applications and the Notice of Death
6 Transfers Unilaterally Severing a Joint Tenancy
7 Bankruptcy Applications
8 Trusts and the Register
9 Caveats
10 Removing Caveats
11 Writs
12 General Practical and Procedural Information
Appendices – definitions, approved forms, LPI terms and conditions
Index
Editorial Reviews
From: The NSW Conveyancer - Issue 3, 2013
Review by Alan West, CEO AICNSW
It is not often that you find a text on land dealings and registration of those dealings that is presented in a manner that all readers, whether experienced or new to land law, can use as an easy to understand guide to Land Titles office procedures.
"Land Titling Law & Practice in NSW" written by Greg Stilianou would make a wonderful addition to any Conveyancers reference library. The author, Greg Stilianou, is a lawyer with Legal Services (Property and Litigation Division) Land and Property Information.
The extensive two chapters on caveats are worth the purchase price alone. Everything needed to prepare and register a caveat and then the withdrawal and/or removal of caveats is set out clearly and in detail sufficient for anyone to find anything they needed to know about caveats.
The ultimate aim in any conveyancing transaction is to gain registration of the dealing evidencing the transaction without requisition or delay. This text goes a long way to assisting in the understanding of what is required to achieve registration, how other recordings may have an effect on registration, and provides practical advice on these matters.
A further chapter that was of interest to the writer was on 'writs'. Following Black and Garnock (2007) HCA 31 conveyancers have become more aware of writs and the need to be concerned about the gap between settlement and registration. The Chapter on writs is extremely informative and is recommended reading to all conveyancers.
For anyone working in the field of conveyancing this book could end up being the one most used in your property and conveyancing law library.
Table of Contents
1 Legal Aspects of Land Titling
2 The Registrar-General and the Registrar-General's Directions
3 The Register: Lodgment, Registration and Recording
4 Transfers by a Mortgagee
5 Transmission Applications and the Notice of Death
6 Transfers Unilaterally Severing a Joint Tenancy
7 Bankruptcy Applications
8 Trusts and the Register
9 Caveats
10 Removing Caveats
11 Writs
12 General Practical and Procedural Information
Appendices – definitions, approved forms, LPI terms and conditions
Index
Resource Downloads
General Downloads
Product Reviews