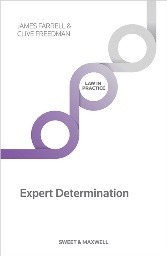 Kendell on Expert Determination 5th Edition
Book

Date: 12/12/2014

Code: 9780414034266

Sweet & Maxwell, UNITED KINGDOM

Kendell on Expert Determination 5th Edition
Description
Expert Determination looks at the procedure for settling disputes and also examines the application of expert determination in various commercial situations.
Now in its 5th edition, the book discusses how expert determination is used as a method of dispute resolution and how it can be used alongside arbitration or litigation in a contract. The new edition covers international use for the first time, explaining the pitfalls with regard to cross-jurisdictional issues and enforcement.
The 5th edition considers cases decided by the courts since the last edition was published in 2008, which includes:
Barclays Bank Plc v Nylon Capital Llp, in which the Court of appeal considered the scope of the expert's jurisdiction, and the part played by the court in deciding the extent of the expert's jurisdiction.
Cream Holdings Ltd v Davenport.
Ackerman v Ackerman, which considered the expert's duty to act fairly, and the consequences of failure by the expert to adopt a fair procedure where the court was satisfied that the decision would have been the same even if the procedure had been fair.
Issue estoppel in relation to the decision of an expert, in the light of Woodford Land Ltd v Persimmon Homes Ltd.
Wilky Property Holdings Plc v London & Surrey Investments Ltd, which discusses staying court proceedings relating to matters falling within an expert determination clause.
Cases in which a party has lost the right to challenge the decision by acting on the basis that the decision was a valid and binding decision.
PC Harrington Contractors Ltd v Systech International Ltd which studies whether an expert is entitled to be paid if the decision reached is unenforceable.
Table of Contents
1. Introduction
2. Land
3. Valuation and sales of businesses and of shares in private companies
4. Uses of expert determination in business and industry
5. Construction contracts and interim determinations
6. Dispute resolution
7. The expert clause
8. Qualifications of an expert
9. Appointing an expert
10. Acting as an expert
11. Jurisdiction of the expert
12. Procedure for the reference
13. Enforcing the decision
14. Challenging the decision
15. Rights and duties of experts
16. Arbitration is different
17. A third category?
18. Expert determination in other countries
19. International issues

Appendices
A: Precedents for an accountancy expert
B: Appointment of arbitrators by the President of the Law Society: guidance notes and application form
C: RICS application form and notes
D: Precedent for Claims Tribunal for company voluntary arrangement
E: CEDR's Model expert determination agreement and guidance notes
F: List of Appointing Authorities
G: Glossary
H: Further reading, books, articles