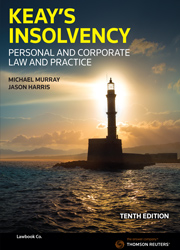 Keay's Insolvency: Personal & Corporate Law and Practice 10th edition eBook
eBook - ProView

Date: 28/06/2018

Code: 9780455240022

Lawbook Co., AUSTRALIA

Keay's Insolvency: Personal & Corporate Law and Practice 10th edition eBook
Description
Keay's Insolvency has become a recognised text on personal and corporate insolvency law and practice in Australia, and it is widely used by practitioners and regularly cited in court.
It offers both a detailed explanation of the law, supported by case law and commentary, and of insolvency practice, along with the authors' critical analysis of the effectiveness and efficiency of the regime and views on its need for reform.
Keay's Insolvency now includes a detailed chapter on the restructuring of insolvent businesses, including in the context of a safe harbour process, outside the formal regimes of the Corporations Act.
Those studying and practising in insolvency now have an authoritative text covering all current insolvency and restructuring law and practice in Australia.
ABOUT THE AUTHORS
Michael Murray is a lawyer and writer, publishing through Murrays Legal, on insolvency and related law and practice. He is a Visiting Fellow at the Queensland University of Technology, a government nominee on bankruptcy registration and discipline committees, a Fellow of the UNCITRAL Co-ordination Committee Australia and a Fellow of the Australian Academy of Law.
Jason Harris is an Associate Professor in Law at the University of Technology, Sydney, and continues to teach and write extensively in the area, in particular in corporate law and restructuring. Jason is a government nominee on bankruptcy registration committee, a Fellow of the Governance Institute of Australia, a member of INSOL International and a member of the Insolvency and Restructuring Committee and Corporations Committee of the Law Council of Australia (Business Law Section) and an academic member of ARITA.
Each brings his respective knowledge, experience and thoughts to this important area of law and practice.
Table of Contents
1. Introduction to Insolvency - The Law, Policy and Current Issues
2. Introduction to Bankruptcy and its Administration
3. Going Bankrupt – Voluntary and Compulsory Bankruptcy
4. The Impact of Bankruptcy
5. The Recovery of Assets for Creditors
6. The Administration of the Bankruptcy
7. The End of a Bankruptcy and Beyond
8. Personal Insolvency Agreements
9. Debt Agreements
10. Introduction to Liquidation and Its Administration
11. Voluntary and Compulsory Winding Up
12. Provisional Liquidation
13. The Effects of Winding Up
14. Assets Available to the Liquidator
15. The Administration of the Winding Up
16. Criminal Offences and Civil Actions Against Company Directors
17. Termination of the Winding Up: Deregistration and Reinstatement
18. Receivership
19. Voluntary Administration
20. Deeds of Company Arrangement
21. Restructuring and Workouts
*
eBooks and packages including an eBook may not be returned once the software key has been supplied. Your rights as a customer to access and use the ProView™ software and a ProView eBook are subject to acceptance of the ProView content licence agreement.
NB
An email with a registration key and instructions for accessing your eBook will be sent after checkout. For existing ProView users the eBook will appear in your library after checkout.

Forthcoming/pre-order eBooks will be available after the publication date.

The ProView app is not currently available on Kindle. See the latest system requirements