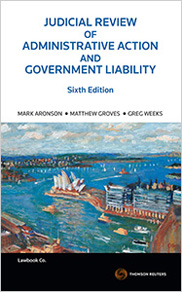 Judicial Review of Administrative Action and Government Liability 6th Edition - eBook
eBook - ProView

Date: 19/01/2017

Code: 9780455238258

Lawbook Co., AUSTRALIA

Judicial Review of Administrative Action and Government Liability 6th Edition - eBook
Description
"…this text is a wonder, and well deserving of its high reputation."
- Matt Garozzo - Lawyer, Clayton Utz (Review of 5th Edition, 34 Qld Lawyer 80)
"When as a student, associate or solicitor I have asked which is the authoritative textbook on administrative law, I have almost invariably been told by judges, academics, partners and counsel alike: 'Aronson'."
- Emrys Nekvapil, Barrister (Review of 4th Edition, Law Institute Journal, August 2009)
"This is a textbook of broad learning and scholarship, clearly and attractively written. Ready access to a copy remains essential for those who practice in administrative law, federal or state."
- Hon. Alan Robertson SC, Judge of the Federal Court (Review of 3rd Edition, NSW Bar News, Summer 04/05).
Judicial Review of Administrative Action and Government Liability Sixth Edition is one of Australia's most respected legal texts. It became the first title in our prestigious Lawbook Library Series, because it represents definitive legal scholarship and publishing excellence in Australian law.
For two decades, this work has both mapped and supported development of the law and practice of judicial review of administrative action throughout Australia. Repeatedly cited in the High Court of Australia, this landmark work remains the definitive scholarly work for judicial officers, practitioners and students alike.
Significant developments have occurred since the Fifth Edition published in 2013.
The book now includes an entirely new chapter on what is now a substantial body of special statutory and common law rules that apply to government liability in contract, tort, and restitution.
Numerous decisions of the High Court and the Federal Court, in particular, are producing a discernible relaxation of the traditional grounds of review, and a more expansive approach to the interpretation of regulatory statutes.
In addition, the Full Court of the Federal Court has announced a simplification of the criteria for appeals limited to questions of law, overturning literally dozens of earlier precedents.
Other matters considered include:
workers compensation,
security of payments schemes in the construction industry,
anti-corruption agencies,
planning and local government law, and
further development of the relationships between appeals and judicial review.
In the Sixth Edition, Mark Aronson and Matthew Groves are joined by Greg Weeks formerly from the University of New South Wales, and now at the Australian National University. Their combined expertise ensures that this pre-eminent title continues to provide a fresh and authoritative treatment of judicial review of administrative actions in Australia, and an invaluable guide to the special problems relating to government liability in tort, contract and equity.
*
eBooks and packages including an eBook may not be returned once the software key has been supplied. Your rights as a customer to access and use the ProView™ software and a ProView eBook are subject to acceptance of the ProView content licence agreement.
NB
An email with a registration key and instructions for accessing your eBook will be sent after checkout. For existing ProView users the eBook will appear in your library after checkout.

Forthcoming/pre-order eBooks will be available after the publication date.

The ProView app is not currently available on Kindle. See the latest system requirements