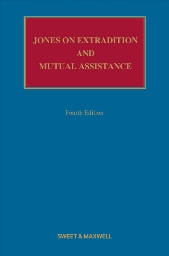 Jones on Extradition & Mutual Assistance 4e
Book

Forthcoming Release, 31/10/2019

Code: 9780414045378

Sweet & Maxwell, UNITED KINGDOM

Jones on Extradition & Mutual Assistance 4e
Description
Jones on Extradition sets out the law and practice of extradition between the UK and other countries, providing an explanation of the latest issues, procedures and case law.
As well as covering extradition, mutual assistance is also covered with an explanation of how both of these concepts relate to each other and how they apply to specific situations. The author clarifies the general principles including how the law relates to other areas such as human rights and abductions highlighting the issues that need to be considered.
All relevant legislation and treaties are included so that all the relevant material is at hand for readers.
The 4th edition:
Covers the principles of extradition

Inlcudes the relevant rules both to and from European and other countries and the UK

Discusses cases (both reported and unreported) and legislation in context

Provides a thorough grounding in the law and practice in this area

Shows how the law relates to other areas such as human rights, setting out the law in context and raising issues for your consideration

Explains the categorisation of countries for extradition purposes, making clear which arrangements apply for specific countries

Analyses extradition procedures, both to and from the UK, such as arrest, hearing and appeals to ensure that procedures can be followed correctly

Explains where bars to extradition may apply and offers suggestions on how extradition may be challenged

Includes a new section on police powers plus expanded sections on international crimes and immunities and extradition & human rights, ensuring the reader is up-to-date with the latest thinking and practice on these topical issues

Provides relevant legislation, treaties and Codes of Practice so that key materials are to hand in one place, making research easier and quicker

Written by Alun Jones QC so the reader can rely on the commentary for legal acumen, accuracy and authority (he is recognised as an authority in this area and was instructed by the Government of Spain in the Pinochet extradition).

Essential reading for UK criminal and civil solicitors and barristers, the CPS and SFO, UK government bodies, UK courts and the judiciary. The focus on international co-operation ensures it will also have a broad appeal to Commonwealth countries and the USA.

Includes in full (with some annotation of UK materials) all the UK and International legislation and treaties that a lawyer working in this area needs

Covers the Extradition Act 2003; Crime (International Co-op) Act 2003; reforms at EU level; new US/UK and US/EU Treaty; and the highly controversial Eurowarrant thoroughly. Includes a section on police powers; and sections on international crimes & immunities, and extradition & human rights.
Table of Contents
ntroduction
Part A: The Historical and International Context
History
Double Criminality and Speciality
Political Offences and Offenders
International Crimes and Immunities
Extradition and Human Rights
Irregular Rendition and Abduction
Part B: Extradition from the United Kingdom
Categorisation of Countries-Category 1

Category 2
Special extradition arrangements

Role of CPS, Extradition Squad, District Judge
Arrest -Category 1
Provisional arrest
Warrant received
Category 2
Provisional arrest
Request received
Category 2
Extradition Offences -Category 1
Initial Hearing -Bail
Legal Aid
Extradition Hearing -Category 1
extraneous considerations
passage of time
age
hostage-taking considerations
specialty
physical or mental condition
earlier extradition
human rights
death penalty
Category 2
Category 2
Bars to Extradition (both for Category 1 & 2) -double jeopardy
withdrawal
competing requests
costs
Secretary of State & Category 2 cases
Appeals -Category 1
Consent to Extradition
Other matters -time limits
Post-extradition matters
Part C: Extradition to the UK
Part D: Police Powers
Warrants & Orders
Search and seizure without warrant [including delivery of seized property]
Treatment following arrest
Part E: Mutual Assistance
History
The statutory scheme.
Appendices
The statutory materials
* Pre-order: This item will be available on: 31 Oct 2019