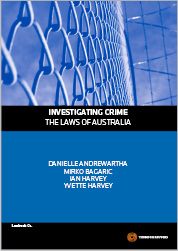 Investigating Crime - The Laws of Australia
Book

Date: 30/11/2013

Code: 9780455232089

Thomson Reuters, AUSTRALIA

Investigating Crime - The Laws of Australia
Description
In recent years, the extent of powers granted to police and other investigative agencies has changed in line with new technologies and new types of crime. Increasingly, practitioners need to understand the working of Royal Commissions and government agencies with the power to investigate breaches of the criminal law.
Investigating Crime – The Laws of Australia combines criminal and administrative law materials to provide an encyclopaedic outline of the powers and responsibilities of police and other investigative agencies across Australian jurisdictions.
The text covers:
Police powers in relation to arrest, questioning, the investigation of persons and places, and electronic surveillance.
The essential attributes and functions of a selection of independent investigative agencies, and then looks in detail at the Australian Crime Commission (ACC); the Australian Securities and Investments Commission (ASIC); the Independent Commission Against Corruption (ICAC); the Crime and Misconduct Commission (CMC); the New South Wales Crime Commission (NSWCC); and ASIO.
The manner in which Royal Commissions and Boards of Inquiry are established and acquire information; the limits on the powers of governments to appoint them; the statutory provisions governing their appointment and their procedure once appointed.
The authors, Danielle Andrewartha of Monash University, Professor Mirko Bagaric, Dean and Head of the School of Law at Deakin University, Sydney barrister Ian Harvey of Wentworth Chambers, and writer and researcher Yvette Harvey, have lent their expertise to create this clear, encyclopaedic analysis of a unique area of the law.
This material is published as part of Title 2 "Administrative Law" and Title 11 "Criminal Procedure" of The Laws of Australia legal encyclopaedia.