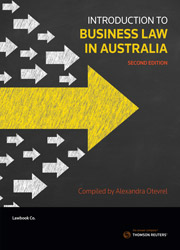 Introduction to Business Law in Australia 2e
Book

Date: 23/06/2017

Code: 9780455240152

Thomson Reuters, AUSTRALIA

Introduction to Business Law in Australia 2e
Description
Introduction to Business Law in Australia 2e is a custom publication for Business Law students and has been compiled by Alexandra Otevrel, Lecturer, from the University of Canberra.
This text draws content from several textbooks from the Thomson Reuters (Australia) portfolio.
Purchase of the book includes a free ebook.
Table of Contents
1 The Australian Legal System
2 Introduction to the Law of Contract
3 Offer and Acceptance
4 Intention to Create Legal Relations
5 Consideration, Promissory Estoppel and Formalities
6 Contractual Capacity
7 Consent of Parties: Mistake, Misrepresentation and Unconscionable Contracts
8 Legality of Object
9 Contents and Interpretation of the Contract
10 Operation of the Contract
11 Termination of a Contract
12 Remedies
13 The Law of Electronic Commerce
14 Law of Torts
15 Consumer Protection
16 Property
17 Intellectual Property
18 Agency
19 Business Structures other than Companies
20 Company Law
21 The Law of Trusts
*
eBooks and packages including an eBook may not be returned once the software key has been supplied. Your rights as a customer to access and use the ProView™ software and a ProView eBook are subject to acceptance of the ProView content licence agreement.
NB
An email with a registration key and instructions for accessing your eBook will be sent after checkout. For existing ProView users the eBook will appear in your library after checkout.

Forthcoming/pre-order eBooks will be available after the publication date.

The ProView app is not currently available on Kindle. See the latest system requirements