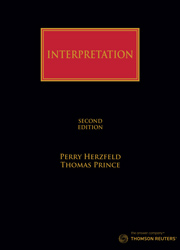 Interpretation
Book

Date: 28/05/2020

Code: 9780455501468

Lawbook Co., AUSTRALIA
Description
This is the second edition of the work previously known as Interpretation and Use of Legal Sources. It covers all aspects of interpretation in Australian law:
public law, including statutory and constitutional interpretation;
private law, including the interpretation of contracts, deeds, wills and trusts; and
case law, including the interpretation of judgments and the rules of precedent.
The new edition has been fully revised and updated. The coverage has been expanded to include:
implication of terms in private documents;
rectification of private documents; and
interpretation of non-legislative statutory instruments, such as patents, industrial agreements and development consents.
The book has been restructured into smaller chapters, arranged thematically to assist in identifying parallels in the principles of interpretation in different areas.
The treatment of interpretation across all areas of the law is unique and makes this book an invaluable resource. The Honourable Dyson Heydon described the first edition as "one of a small handful of outstandingly able books on Australian law produced so far this century" and a book that "really does need to be on every lawyer's shelves".
Table of Contents
CONTENTS
1 PUBLIC LAW
Part 1 – Statutes
Chapter 1 – General Principles
Chapter 2 – Meaning of Words
Chapter 3 – Definitions and Deeming
Chapter 4 – Words with Established Meanings
Chapter 5 – Construction as a Whole
Chapter 6 – Linguistic Canons of Construction
Chapter 7 – Purpose
Chapter 8 – Extrinsic Material
Chapter 9 – Presumptions of Construction
Chapter 10 – Rules about Particular Kinds of Act
Chapter 11 – Amendments and Repeals
Chapter 12 – Commencement and Duration
Part 2 – Instruments Made under Statute
Chapter 13 – Nature and Validity of Subordinate Legislation
Chapter 14 – Interpretation and Repeal of Subordinate Legislation
Chapter 15 – Rules of Court
Chapter 16 – Non-Legislative Instruments
Part 3 – Constitutions
Chapter 17 – Commonwealth Constitution
Chapter 18 – State and Territory Constitutions
2 PRIVATE LAW
Part 1 – Construction
Chapter 19 – General Principles
Chapter 20 – Meaning of Words
Chapter 21 – Definitions and Defined Terms
Chapter 22 – Construction as a Whole
Chapter 23 – Parts of a Document
Chapter 24 – Linguistic Maxims of Construction
Chapter 25 – Purpose
Chapter 26 – Extrinsic Evidence
Part 2 – Implication and Rectification
Chapter 27 – Implication of Terms
Chapter 28 – Rectification
Part 3 – Specific Documents
Chapter 29 – Contracts
Chapter 30 – Deeds
Chapter 31 – Wills
Chapter 32 – Trusts
3 CASE LAW
Part 1 – Reasons for Judgment
Chapter 33 – Rules of Precedent
Chapter 34 – Ratio Decidendi
Chapter 35 – Obiter Dicta
Part 2 – Orders and Practice Directions
Chapter 36 – Orders
Chapter 37 – Practice Directions