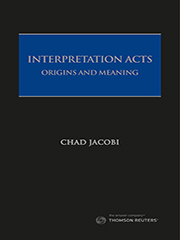 Interpretation Acts: Origins and Meanings - eBook
eBook - ProView

$76.00* $190.00* RRP Save: $114.00 (60%)

Date: 04/01/2019

Code: 9780455500614

Lawbook Co., AUSTRALIA

Interpretation Acts: Origins and Meanings - eBook

Sale Price:

$76.00

Saving: $114.00
Description
Barrister Chad Jacobi has created a unique and practical reference work in Interpretation Acts: Origins and Meaning. It is based on the premise that the Interpretation Acts, which are key tools to reading legislation in the various Australian jurisdictions, themselves need to be read as statutes, the meanings of which must be ascertained.
Lawyers are often confronted with the – sometimes urgent – need to understand these provisions in the context of litigation, particularly in areas highly affected by statutory interpretation, like public law as well as criminal law, succession law, industrial law and tax.
This text helps practitioners grasp the "how, what and why" of these provisions by looking to their origins: how they have come about, what has changed and what the authoritative decisions on their meaning are today. It is the first publication of its kind in Australia, presenting history that is not merely interesting on its own terms, but is important in the very practical context of law in operation. It is a must for every law library, private and public.
Table of Contents
Brief history of Interpretation Acts
Preliminary

Binding the Crown
Acts deemed to be Public Acts

Definitions

"Persons" and "Corporations"
"Month"
"Oaths"
"Land"
"County"

Statutes

Commencement and evidence of assent
Citation and reference
Revival
Amendment and repeal in the same session

General rules

Effect of repeal
Material parts of an Act
Within Power
Remedial reading
Gender and Number
Prescribed forms
An Act is "Always Speaking"
Confirming an interpretation
Substitution
"May" and "Shall"
Double jeopardy
Penalties

Distance and Time

Distance
Time
Acting with "all convenient speed"

Powers, functions and duties

From time to time
Power to appoint and re-appoint
Purported acts and 'de facto' officers
Delegation

Instruments
*
eBooks and packages including an eBook may not be returned once the software key has been supplied. Your rights as a customer to access and use the ProView™ software and a ProView eBook are subject to acceptance of the ProView content licence agreement.
NB
An email with a registration key and instructions for accessing your eBook will be sent after checkout. For existing ProView users the eBook will appear in your library after checkout.

Forthcoming/pre-order eBooks will be available after the publication date.

The ProView app is not currently available on Kindle. See the latest system requirements