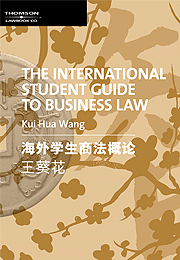 International Student Guide to Business Law
Book

Date: 28/05/2007

Code: 9780455224527

Lawbook Co., AUSTRALIA

International Student Guide to Business Law
Description
The International Student Guide to Business Law is an innovative text specifically designed to provide an essential guide for International Chinese language students.

Written in Chinese, the book offers succinct and accurate explanation of key concepts and principles in business and commercial law. A deeper understanding of these basic key topic areas and terminology nurtures the student's ability to learn and read independently, reducing the time lecturers spend covering the basics.

The text covers key concepts in contract law, competition law, corporations law, intellectual property, professional negligence, sale of goods and much more. It also provides a clear overview of the Australian legal system for the first time law or commerce student.

Other features include:
• references to supporting cases and relevant legislation
• guide to problem solving
• practice questions
• references to further reading.

The book provides a solid foundational knowledge for non-English speaking students. This ensures the student a high capacity to comprehend the subject area promptly, correctly and with growing confidence.

An essential learning tool for international commerce or business law students.



Table of Contents
Chapter 1. An Introduction to Australian Business Law
Chapter 2. Australian Legal Systems
Chapter 3. Introduction to the Law of Contract
Chapter 4. Offer and Acceptance
Chapter 5. Intention to Create Legal Relationship
Chapter 6. Consideration, Promissory Estoppel and Formalities
Chapter 7. Contractual Capacity
Chapter 8. Privity and Contents of Contract
Chapter 9. Consent of Parties
Chapter 10. Discharge of the Contract
Chapter 11. Remedies
Chapter 12. Agency
Chapter 13. Sale of Goods
Chapter 14. Professional Negligence
Chapter 15. Marketing Law and Consumer Protection
Chapter 16. Intellectual Property Law
Chapter 17. Competition Law
Chapter 18. Corporations Law and Partnership.