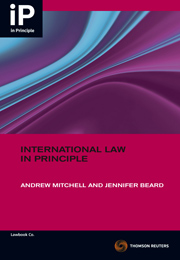 International Law: In Principle 1st edition
Book

Date: 25/06/2009

Code: 9780455225692

Lawbook Co., AUSTRALIA

International Law: In Principle 1st edition
Description
A new addition to the popular In Principle series of texts, International Law: In Principle is a concise yet wide-ranging analysis of the fragmented and dynamic field of public international law. It provides a clear analysis of the core principles and sources of international law, together with its nature and history.

In addition, the book contains authoritative contributions by experts on:

• State jurisdiction and immunities;
• The use of force and collective security;
• World Trade Organization law;
• International environmental law;
• The law of the sea;
• International criminal law; and
• Human rights law.

Each chapter of this accessible and contemporary learning tool also includes short problem questions and answers, as well as tutorial topics. This book is essential for those readers wishing to test their understanding of international law and its relevance in today's world.
Contents
1 The Nature and History of International Law
2 Sources and Methodology of International Law
3 The Relationship between International and National Law
4 States in International Law
5 Non-State Actors of International Law
6 State Jurisdiction and Immunities
7 State Responsibility
8 Law of Treaties
9 Dispute Resolution by International Tribunals
10 Use of Force and United Nations Collective Security System
11 World Trade Organization
12 Law of the Sea
13 International Environmental Law
14 International Human Rights
15 International Criminal Law
Authors
Associate Professor Andrew D Mitchell, University of Melbourne
Dr Jennifer Beard, University of Melbourne
With thanks to Professor Richard Garnett (Chapter 6); Dr Tarcisio Gazzini, VU University Amsterdam (Chapter 10); Professor Stuart Kaye, University of Melbourne (Chapter 12); Assistant Professor Frédéric Mégret, McGill University (Chapter 15); Associate Professor Jacqueline Peel, University of Melbourne (Chapter 13); Associate Professor Tania Voon, University of Melbourne (Chapter 11).
Editorial Reviews
From: Law Institute Journal, March 10
Reviewed by Dr Daniel Lovric, Commonwealth Office Of Parliamentary Counsel
Is there a law subject with more textbooks than international law? Unlike most law subjects, there are more than just common law authors – authors from the entire world have written on the subject. The choice ranges from detailed treatises (e.g. Brownlie, Oppenheim) to sophisticated broad outlines (e.g. any annual Hague lecture volume) to simply written student outlines.

Mitchell and Beard have produced a worthwhile contribution to this daunting range of literature. Their concise book is aimed more at the student or general reader than the specialist, but is not oversimplified. As they note, the book may challenge the lay reader, but it is aimed at an interdisciplinary audience. As a well-written summary it is also well worth a read for experts in international law interested in a brief refresher.

The book covers the nature and sources of international law; domestic law interface; statehood and non-state actors; jurisdiction and immunities; state responsibility; treaties; the UN; the use of force; international human rights law; international criminal law; international environmental law and the WTO. Each chapter concludes with practice questions and tutorial questions, which highlight the value of the book for students.

The feature that makes the book stand out is its focus on Australian source material. There are conspicuous frequent references to Australian cases, legislation and commentators. This will make the book appealing to Australian students and anyone interested in a particularly Australian take on international law. The book does not give much coverage of other jurisdictions (e.g. civil law jurisdictions), but this is justifiable in a text of this nature. Its Australian focus makes it accessible to Australian readers and provides a base for further ventures into the international literature. The upshot: the book is to be recommended for Australian readers looking for a well-written and reliable introduction to international law.

Table of Contents
1 The Nature and History of International Law
2 Sources and Methodology of International Law
3 The Relationship between International and National Law
4 States in International Law
5 Non-State Actors of International Law
6 State Jurisdiction and Immunities
7 State Responsibility
8 Law of Treaties
9 Dispute Resolution by International Tribunals
10 Use of Force and United Nations Collective Security System
11 World Trade Organization
12 Law of the Sea
13 International Environmental Law
14 International Human Rights
15 International Criminal Law
Resource Downloads
General Downloads
Product Reviews